Women in Sports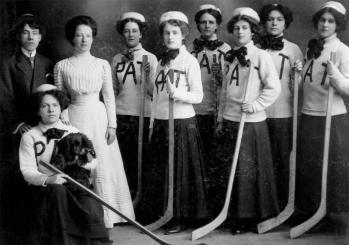 Organized sports began for both men and women in the 1880s as soon as there were permanent newcomer settlements. As towns were established, their citizens began skating, curling, and playing a variety of ball games, and were soon competing with neighbouring towns. Later, facilities such as golf courses and gymnasiums gave residents additional athletic opportunities. The 1920s were a golden age for both men's and women's sports in Saskatchewan. In larger centres, leagues in baseball, basketball, and tennis attracted hundreds of participants. In sports like golf, bowling, and curling, women competed in daytime events and evening mixed competitions. At the University of Saskatchewan, athletic director Joe Griffith began actively recruiting and coaching talented athletes of both genders, particularly in swimming and track and field. His star competitor was Ethel Catherwood, a high jumper who captured the gold medal at the 1928 Olympics. In 1929, the University established an independent women's sports program.
World War II (1939-45) and its aftermath brought new opportunities for women athletes. Twenty-six softball players from Saskatchewan took part in the All American Girls Professional Baseball League from 1943 until 1954. Synchronized swimming, a sport in which only females participate, began in 1941 at the Regina Young Women's Christian Association (YWCA). Immediately after the war, the Saskatchewan High School Athletic Association was formed to encourage interschool athletic competition for both boys and girls. Also, many sports began offering clinics to attract the large number of children born shortly after the war. Figure skating, for example, attracted many young girls who were often taught by more senior skaters, some of whom later skated professionally in traveling ice shows.
As the baby boom continued in the 1950s, more girls participated successfully in recreational and competitive athletics. The first women's gymnastics club in Saskatoon produced three national champions, Gail Daley and sisters Glenna and Patti Sebastyen, within ten years of its founding. Women track and field athletes from the University of Saskatchewan also had success at the national level and obtained places on Canada's international teams; and a Saskatoon women's basketball team won the national championship in 1959.
Opportunities for women in sport increased in the 1960s as governments began to encourage this type of healthy activity. In 1967, the Canadian government initiated the Canada Winter Games, followed by the Summer Games two years later. These games brought together the best athletes in many sports from each province, with women competing in about two-thirds of the events. The 1970s brought even more growth. In 1972, the Saskatchewan government began sponsoring the Saskatchewan Summer and Winter Games. Aside from the benefits of additional competition, these games provided needed facilities in the province's smaller cities. Also, the provincial government began channeling lottery profits into sports through an organization called SaskSport. This money allowed sports organizations to set up permanent offices and hire administrators and coaches, many of them women, to do work previously done by volunteers.
With this new interest and funding, more girls and women became involved in sports. Schools, including the newly independent University of Regina, fielded women's teams and also provided both recreational and competitive opportunities in individual sports. Women took up sports such as rowing, soccer and Hockey, which had previously attracted men only, and they also participated in new sports such as ringette, an almost exclusively female ice sport started in the mid-1970s. At first, it was difficult for these teams to get access to facilities such as rinks, but the athletes and their parents pushed hard for equal ice time.
Saskatchewan women athletes achieved national and international prominence during the 1970s. Local women curlers captured seven national titles during the decade, and also took four junior titles. In track and field, Saskatoon's Diane Jones (now Jones Konihowski) gained a reputation as a world-class pentathlete, competing in three Olympic Games and winning gold in this event at the 1978 Commonwealth Games.
The 1980s and 1990s saw a continuation of the expansion of women's athletics in Saskatchewan, with women continuing to move into traditionally male sports such as cycling and wrestling. The province also continued to produce national and international champions. Some of the most successful of these were Regina's Sandra Schmirler's curling foursome, who won the world championship in 1993, 1994 and 1997, and captured the Olympic gold medal in 1998. Saskatoon speedskater Catriona Le May Doan also won several world titles and repeated as Olympic gold medallist in 1998 and 2002. Haley Wickenheiser, of Shauvanon, and three other Saskatchewan women played on the 2002 gold medal Olympic hockey team.
Sandra Bingaman
Print Entry