Schmirler, Sandra (1963-2000)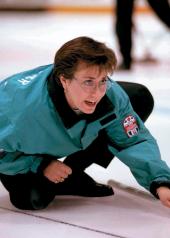 Internationally renowned curler Sandra Marie Schmirler was born in Biggar, Saskatchewan on June 11, 1963. As a natural athlete, Schmirler's favourite sport was Curling: she played on her high school team and won the provincial playoffs in her senior year. Schmirler continued curling while attending the University of Saskatchewan. After graduating in 1985 with a BSc in Physical Education, she moved to Regina, where she was employed as a swimming instructor and lifeguard. In 1992, she was appointed supervisor of the South East Leisure Centre. In Regina, Schmirler curled as a member of Katy Fahlman's team, which won the 1987 provincial championships. By the 1990-91 season, Schmirler decided to become skip of her own team - Team Peterson (renamed Team Schmirler in 1996 - along with Jan Betker, Joan McCusker, and Marcia Gudereit). In its premiere season, the team won the provincial championship; it competed in the 1991 Scott Tournament of Hearts, but did not make it to the playoffs.
During the 1992-93 season, Schmirler's team won both the provincial and national titles. Schmirler was awarded the all-star skip award that year at the Scott. The team then went on to compete in and win their first world championship, and was named Team of the Year by SaskSport. Team Peterson was once again the national champion after winning the 1993-94 Scott. They returned for their second world championship, won the title, and became the first Canadian team to win consecutive world titles; SaskSport named them Team of the Year for the second time in 1994. In the 1996-97 season, Team Schmirler won for the third time both the national and the world championships.
After competing successfully in the 1998 Nagano Winter Olympics, Team Schmirler won the first Olympic gold medal ever to be awarded for the sport of curling. In the 1998-99 season, it was unable to win the provincial championship but enjoyed other successes, including being named Team of the Year by the Canadian Press in 1998 and being inducted into the Canadian Curling Hall of Fame in March 1999. However, in mid-1999, two months after giving birth to her second daughter, Schmirler was diagnosed with cancer; she passed away on March 2, 2000, at the age of 36. Her memory continues to be honoured today: in January 2000, the Sandra Schmirler Foundation was established to provide assistance to children in families facing a life-threatening illness; later that year, Schmirler was awarded the Saskatchewan Order of Merit posthumously; and in the fall of 2000 she was inducted into the Canadian Sports Hall of Fame.
Daria Coneghan, Erin Legg, Holden Stoffel
Print Entry