Victoria Cross: Saskatchewan Recipients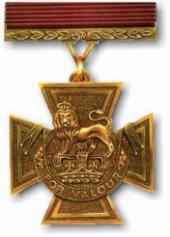 The Victoria Cross (VC) is the highest recognition of military valour in the British Commonwealth and is awarded without regard to rank, service or length of service. The Victoria Cross was established in 1856 by Queen Victoria, who was inspired by the bravery of returning veterans of the Crimean War. The VC takes precedence over all other decorations and is worn nearest the buttons of the tunic. Prince Albert, the Queen's Consort, contributed to the design of the medal made from bronze Russian guns captured during the Crimean War. The medals were originally to have been inscribed "For the Brave"; however, the Queen felt that all who went into battle were brave, therefore "For Valour" was more appropriate. The Queen presented the first Victoria Cross medals at a ceremony in Hyde Park on June 26, 1857, to sixty-two veterans of the Crimean War including one Canadian, Lieutenant Alexander Dunn of the 11th Hussars. Lieutenant Dunn was awarded the medal for saving the life of two of his men in the Charge of the Light Brigade at Balaclava. Ninety-three other Canadians have since received the award.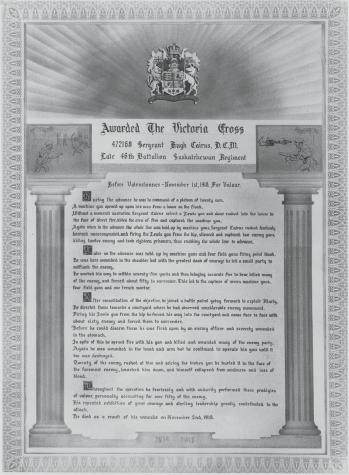 A total of seventeen Victoria Crosses have been awarded to men from Saskatchewan or associated with Saskatchewan. The first of these, Surgeon Lieutenant Dr. Campbell Mellis Douglas, had been awarded the Victoria Cross on May 7, 1867, for rescuing seventeen stranded servicemen from an island in the Indian Ocean. Douglas was later to volunteer to serve in Saskatchewan during the North-West Resistance of 1885; after arriving in Swift Current he went to Saskatoon, where he treated the wounded from the battles of Fish Creek and Batoche. For his efforts Douglas was awarded the North-West Canada Medal; following the Resistance he returned to England, where he died on December 31, 1909.
Three Victoria Crosses were awarded to residents of Saskatchewan during the South African or Boer War (1899-1902). Ten more were awarded in World War I, and three in World War II. In World War I (1914-18), Saskatchewan's VC recipients fought in Belgium and northeast France as members of the Canadian Corps. During World War II (1939-45), the first Saskatchewanian to receive the VC was stationed in Hong Kong when Japanese forces overran that colony in 1940. Saskatchewan VC recipients also fought at Dieppe and in northwest Europe. Only one VC winner, Major David Currie, was born in Saskatchewan.
The Saskatchewan Victoria Cross recipients are:
Beet, Harry Churchill (1873-1946). Corporal Harry Beet, 27 years old, was presented with the Victoria Cross in 1901 for his actions at Wakkerstroom, South Africa, while serving with the British army. Beet rescued a wounded comrade, tending to his injuries and providing protection for their position until they were both rescued. Beet was born in Nottinghamshire, England, in 1873. In 1906, he and his wife emigrated to Saskatchewan. He served with the Canadian Army during World War I, and by 1918 had risen to the rank of Captain. In 1937 Beet moved to British Columbia, where he died in 1946.
Cairns, Hugh (1896-1918). Sergeant Hugh Cairns joined the army in 1915 and was awarded the Distinguished Conduct Medal for his bravery at Vimy Ridge in 1917. Cairns received the Victoria Cross posthumously for his actions at Valenciennes, France on November 1, 1918. When during the advance a machine-gun opened fire on his platoon, 21-year-old Sergeant Cairns seized a Lewis gun and single-handedly, in the face of direct fire, rushed the post, killed the crew of five and captured the gun. He led three other rushes against machine gun emplacements, killing twelve enemy soldiers, and capturing many others as well as the guns. After the position was consolidated, Cairns went with a battle patrol to exploit the village of Marly; he forced 60 enemy soldiers to surrender, but was severely wounded and collapsed from weakness and loss of blood. Throughout the operation he showed the highest degree of valour, and his leadership greatly contributed to the success of the attack. He died the next day, November 2, 1918. Hugh Cairns was born in England in 1896. His family emigrated to Saskatoon in 1911. In 1936 the town of Valenciennes renamed a street in his honour, and he was awarded the Legion of Honour by the French government. In Saskatoon, a street, a school, a baseball field and the armoury are named after him. A memorial to Cairns, who was also an active football player, was erected near Saskatoon's University Bridge in 1921. The statue is of Hugh Cairns, and around the base are the names of seventy-five Saskatoon football players who did not return from the war.
Cockburn, Hampden Zane Churchill (1867-1913). Lieutenant Hampden Zane Churchill Cockburn of the Royal Canadian Dragoons (RCD) was presented with the Victoria Cross on October 11, 1901, for his actions on November 7, 1900, at Komati River, South Africa. During the Battle of Liliefontein, 32-year-old Lieutenant Cockburn and his men, while acting as the rearguard for a column of troops, found themselves under fire from an overwhelming number of Boers. During a hectic running battle over many hours, the Dragoons twice prevented the capture of artillery pieces under their protection. Cockburn was wounded, and all his men were killed, wounded, or taken prisoner. Cockburn was born on November 19, 1867, in Toronto, Ontario. At the outbreak of the South African War, he gave up his law practice to enlist. During the war he took part in forty-five engagements and earned the Queen's South African medal with clasps for Cape Colony, Diamond Hill, Johannesburg, and Orange Free State. At the same time that he was presented with his VC, he received a sword of honour voted to him by the Toronto city council. In recognition of his services, he was appointed a major in the Governor General's Bodyguard. Cockburn later moved to western Canada, where on July 13, 1913, he was killed in a riding accident on his ranch at Maple Creek.
Combe, Robert Grierson (1880-1917). Thirty-six-year-old Lieutenant Robert Grierson Combe was awarded his Victoria Cross posthumously. On May 3, 1917, Combe's battalion was ordered to occupy the German trenches near the town of Acheville, France. The Germans had anticipated an attack, and by the time the Canadians reached a point 500 yards from the German lines, Combe was the only officer in his company still alive. Combe and the other survivors found themselves caught in an artillery crossfire between the Germans and a barrage from their own guns. Leading six of his surviving comrades, he attacked the enemy position, capturing 250 yards of trench and eighty prisoners. Combe was fatally wounded by a sniper's bullet in the final charge. Born in Aberdeen, Scotland in 1880, he emigrated to Canada around 1906. After living in Moosomin for two years, he opened a drug store in Melville and then in Dubic. In 1914, Combe enlisted and was accepted for a commission. He went overseas to England with the 53rd Battalion as a major, but accepted a reduction in rank to lieutenant so that he could be assigned to the front line in France, where he joined the 27th (City of Winnipeg) Battalion. In 1919, the Prince of Wales presented Lieutenant Combe's Victoria Cross to his widow, Jean Combe, at the Legislative Building in Regina. His portrait hangs in the Peace Tower in Ottawa as well as in the museum in Melville. A lake in northern Saskatchewan and the Melville Branch of the Royal Canadian Legion are named in his honour.
Currie, David Vivian (1912-86). David Vivian Currie was born in Sutherland, Saskatchewan, on July 8, 1912. In 1939 he joined the militia, and enlisted in the regular army in January 1940. He was promoted to captain in 1941 and to major in 1944. Currie was awarded the Victoria Cross for his heroism on August 18, 1944, at St. Lambert-sur-Dives, France. Major Currie was in command of a small mixed force of Canadian tanks, self-propelled anti-tank guns and infantry which was ordered to cut one of the main escape routes from the Falaise pocket. His force was held up by strong enemy resistance in the village of St. Lambert-sur-Dives, and two tanks were knocked out by 88mm guns. Major Currie immediately entered the village alone on foot at last light through the enemy outposts in order to rescue the crews of the disabled tanks - which he succeeded in doing in spite of heavy mortar fire. The following morning, Currie's 115 troops attacked the village of 3,000 enemy soldiers, and by noon they had captured half the village. All of Major Currie's junior officers were killed or wounded, leaving Currie to direct all aspects of the assault until his force was relieved over thirty-six hours later. After the war he spent eight years in Baie Comeau, Quebec, and in 1953 he moved to Montréal. In 1960 Currie was appointed Sergeant-at-Arms of the Canadian House of Commons. David Currie, the only Saskatchewan-born Victoria Cross recipient, died in Ottawa on June 20, 1986. The Moose Jaw armoury is named in his honour.
De Wind, Edmund (1883-1918). Lieutenant Edmund De Wind was awarded his Victoria Cross posthumously. On March 21, 1918, at Racecourse Redoubt near Grougies, France, he held this important position with only two NCOs for seven hours, though twice wounded, until another section could be sent to help him. On two occasions he got out on top of his trench, under heavy machine gun and rifle fire, and cleared the enemy from the position, killing many of them. He continued to repel enemy attacks until he was mortally wounded and collapsed. De Wind, born in County Down, Ireland in 1883, emigrated to Canada in 1910. He joined the 31st Battalion, CEF, as a private in 1914 and arrived in France in September 1915. He saw action on the Somme and at Vimy Ridge. He was commissioned a lieutenant in the British army in September 1917. Mount De Wind in Alberta was named in his memory.
Flowerdew, Gordon Muriel (1885-1918). Lieutenant Gordon Muriel Flowerdew was awarded his Victoria Cross posthumously. On March 30, 1918, in the Bois de Moreuil, France, Lieutenant (acting Captain) Flowerdew, 33 years old, was commanding C Squadron of the Lord Strathcona's Horse, a unit of the Canadian Cavalry Brigade. His squadron was ordered to charge two entrenched lines of enemy, each about sixty strong, having machine guns at their centre and flanks. One line was about 200 yards behind the other. Flowerdew ordered one troop, under Lieut. Harvey, VC, to dismount and provide covering fire while Flowerdew, leading the remainder of the squadron, charged, passing over both lines and killing many of the enemy. Although the squadron had about 70% casualties, including Lieutenant Flowerdew who was fatally wounded, the enemy broke and fled, and the position was captured. Gordon Flowerdew, born in Billingford, England in 1885, emigrated to Canada in 1903, homesteading north of Duck Lake. He moved to British Columbia sometime after 1910, and in 1914 he enlisted as a private in the Lord Strathcona Horse. He was commissioned an officer in 1916 and given command of C Squadron in 1918.
Knight, Arthur George (1886-1918). Sergeant Arthur Knight received his Victoria Cross posthumously for his actions on September 2, 1918, at Villers-les-Cagnicourt, France. When a bombing section which he was leading was held up, Sergeant Knight went forward alone, bayoneting several enemy machine-gunners and trench mortar crews, and forcing the rest to retire. Then bringing forward a Lewis gun he directed fire on the retreating enemy. His platoon went in pursuit and Knight, seeing about 30 of the enemy going into a tunnel leading off the trench, again went forward alone, killing an officer and two NCOs and taking 20 prisoners. He was killed in action a few days later. Knight, born in Sussex, England in 1886, came to Regina in 1911; there he worked as a carpenter. Knight was awarded the Croix de Guerre by the Belgian government in 1917. Knight and Sussex Crescents in Regina are named in his honour.
Merritt, Charles Cecil Ingersoll (1908-2000). Lieutenant Colonel Merritt received his Victoria Cross for acts of gallantry and leadership at Dieppe, France while commanding his battalion, the South Saskatchewan Regiment, during the Dieppe Raid. From the point of landing at Pourville, his unit's advance had to be made across a bridge which was swept by very heavy machine-gun, mortar and artillery fire. The first landing parties were mostly destroyed, and the bridge was thickly covered with their bodies. A daring lead was required; waving his helmet, Lieutenant-Colonel Merritt rushed forward shouting, "Come on over! There's nothing to worry about here!" He personally led the survivors of at least four parties in turn across the bridge. Quickly organizing these, he led them forward, and when held up by enemy pillboxes he again led rushes which succeeded in clearing them. Although twice wounded, Merritt continued to direct the unit's operations, and while organizing the withdrawal he stalked a sniper with a Bren gun and silenced him. He then coolly gave orders for the departure and announced his intention to hold off the enemy. When last seen, he was collecting Bren and Tommy guns to prepare a defensive position from which he successfully covered the withdrawal from the beach. The success of the unit's operations and the safe re-embarkation of a large portion of it were chiefly due to his personal daring. Merritt, however, was captured and became a prisoner of war until he was liberated in 1945. Merritt was born in Vancouver, British Columbia in 1908. He was educated at Lord Roberts School, Vancouver, University School, Victoria, and Royal Military College in Kingston, Ontario. Since 1929, he had been an officer in a Vancouver regiment, the Seaforth Highlanders of Canada. In 1942, he was transferred to the South Saskatchewan Regiment. Upon his release as a POW at the end of the war, he returned to Vancouver. Merritt, a lawyer, served as a member of Parliament from 1945 to 1949. In 1951 he was appointed commanding officer of the Seaforth Highlanders. He died on July 12, 2000.
Milne, William Johnstone (1892-1917). Private William Johnstone Milne was awarded his Victoria Cross posthumously on April 9, 1917, for his actions at Vimy, France. During the attack, 24-year-old Private Milne observed an enemy machine gun firing on the advancing troops. Crawling on hands and knees, he succeeded in reaching the gun, killing the crew, and capturing the gun. When the line resumed the attack, he located a second machine gun and succeeded in capturing it and putting the crew out of action. Milne, a member of the 16th (Canadian Scottish) Battalion, CEF, was born near Glasgow, Scotland in 1892. He emigrated to Canada in 1910, and worked for four years on a farm near Caron until he enlisted at Moose Jaw. Milne Channel in northeast Saskatchewan is named after him. Using public donations, the Canadian War Museum purchased his Victoria Cross at an auction in London, England.
Mullin, George Harry (1892-1963). In January 1918, Sergeant Mullin was informed that he had been awarded the Victoria Cross for his actions on October 30, 1917, in Passchendaele, Belgium. 25-year-old Sergeant Mullin single-handedly captured a German pillbox that had withstood heavy bombardment and was causing heavy casualties, holding up the attack. Mullin rushed a snipers' post in front, destroying it with grenades, shot two gunners and forced the remaining ten to surrender. His clothes were riddled with bullets, but he never faltered; his actions helped to save many lives. Mullin was born in Portland, Oregon in 1892. His family moved to Moosomin when he was 2 years old. He enlisted for military service in 1914 and was awarded the Military Medal in 1917. After the war, he returned to Moosomin and served with the militia in the Assiniboia Regiment, attaining the rank of major. He was appointed Sergeant-at-Arms for the Saskatchewan Legislature in 1934. During World War II, he volunteered for service in the Veterans' Guard in 1940. In 1947 he returned to Regina and resumed his duties as Sergeant-at-Arms. The government of Saskatchewan named a northern lake in his honour. Mullin lived in Regina until his death in 1963.
O'Leary, Michael (1890-1961). Lance-Corporal Michael O'Leary was serving in the British army when he was awarded the Victoria Cross for his actions at Cuinchy, France in 1915. O'Leary, 25 years old, was one of a storming party that was advancing on the enemy lines when he rushed to the opposing front, killing five Germans who were holding the first barricade. He then attacked a second barricade 60 yards further on, capturing it after killing three of the enemy and taking two of them prisoner. He thus practically took the position by himself and prevented the rest of the attacking party from being fired upon. O'Leary was born in Ireland in 1890, and trained in Regina with the North-West Mounted Police in 1913. He rejoined the British Army in 1914, but returned to Canada in 1921 to join the Ontario Police Department. In 1923 he took a job with the Michigan Central Railroad Company's Ontario operations. He returned to England in the early 1930s and served as a Captain with the British Army's Royal Pioneer Corps during World War II. He died in London, England in 1961.
Osborn, John Robert (1899-1941). Sergeant-Major John Robert Osborn was awarded his Victoria Cross posthumously for sacrificing his life to save the lives of his comrades. On December 19, 1941, in the British colony of Hong Kong, the company of the Winnipeg Grenadiers to which he belonged had become divided during an attack on a steep rising hill, Mount Butler. A part of the company, led by Company Sergeant-Major Osborn, captured the hill at the point of the bayonet and held it for three hours until they were forced to withdraw under heavy fire. Osborn and a small group covered the withdrawal, and when their turn came to fall back he single-handedly engaged the enemy while the remainder of the group successfully rejoined the company. During the afternoon, the company was cut off from the battalion and completely surrounded by the enemy, who were able to approach to within grenade-throwing distance of the slight depression that the company was holding. Several enemy grenades were thrown, which Osborn picked up and threw back. The enemy threw a grenade which landed in a position where it was impossible to pick it up and return it in time. Shouting a warning to the others, Sergeant-Major Osborn threw himself on the live grenade, which exploded, killing him instantly. John Osborn was born in Norfolk, England on January 2, 1899. In World War I, he joined the Royal Naval Volunteer Reserve and served as a seaman, seeing action at the Battle of Jutland in May 1916. At the end of the war he moved to Wapella, Saskatchewan where he farmed for two years before moving to Manitoba. In 1933 he joined the Winnipeg Grenadiers and was called to active duty on September 3, 1939.
Pearkes, George Randolph (1888-1984). Major George Randolph Pearkes of the 5th Canadian Mounted Rifles Battalion was awarded the Victoria Cross for his actions in October 1917 at Passchendaele, Belgium. Although wounded in the right thigh, Pearkes continued to lead his men against repeated enemy counter-attacks and was able to capture an enemy strongpoint. Pearkes was born in Watford, England in 1888 and emigrated to Alberta to study farming in 1906. He began training with the Royal North-West Mounted Police at the Regina Depot in 1911, and in 1915 he joined the Canadian Army. By the end of the war he had been promoted to Lieutenant Colonel, and in addition to receiving the Victoria Cross he was awarded the Military Cross, Distinguished Service Order, and French Croix de Guerre. He rose to the rank of Major General after the war, and was made commander of the 1st Canadian Infantry Division in Britain at the start of World War II. He returned to Canada to take over as officer commanding, Pacific Command. He was made a Commander of the Order of the Bath and received the United States Order of Merit. Pearkes was elected to Parliament and became Minister of Defence in 1957. He was appointed Lieutenant-Governor of British Columbia from 1960 to 1968. He died in 1984.
Richardson, Arthur Herbert Lindsey (1872- 1932). Sergeant Arthur Richardson received the Victoria Cross in 1900 for his actions at Wolve Point (Wolwespruit), South Africa, where a party of 38 Lord Strathcona's Horse came into contact and was engaged at close quarters by a force of 80 of the enemy. When the order was given to retire, Sergeant Richardson rode back under very heavy crossfire to save a comrade who had been shot from his horse and wounded. Seeing that the man was in danger of being taken prisoner, he retrieved him and rode off under a hail of Boer fire. Richardson was born in England in 1872 and emigrated to Canada in 1892. He joined the North-West Mounted Police in Regina in 1894. After the war, Richardson returned to Saskatchewan, and in 1908 moved back to Liverpool, England where he died in 1932.
Zengel, Raphael Louis (1894-1977). Sergeant Raphael Zengel, a Military Medal holder, was awarded the Victoria Cross for outstanding bravery during the Battle of Amiens, France in World War I. On August 9, 1918, east of Warvillers, 23-year-old Sergeant Zengel was leading his platoon forward to the attack when he realized that an enemy machine-gun was firing into the advancing line. He rushed forward ahead of the platoon to the gun emplacement, killed the officer and operator of the gun, and dispersed the crew. Later that day he was rendered temporarily unconscious by an enemy shell. Upon recovery, he continued to direct harassing fire at the enemy. Zengal was born in Fairbault, Minnesota, in 1894. He and his widowed mother emigrated to Burr, a small town south of Humboldt, in 1906. In 1914 he moved to Manitoba, where he joined the Canadian Army. After the war, Zengel moved to Alberta and then to British Columbia, where he died in 1977. In 1951 the National Geographic Board of Canada named Mount Zengel, in the Jasper, Alberta region, in his honour.
Daria Coneghan, David G. Marshall
Print Entry