<%@include file="menu.html" %>

Welcome to the Encyclopedia of Saskatchewan. For assistance in exploring this site, please
click here
.
Batoche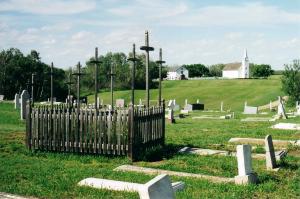 Batoche is a National Historic Site and an annual Métis cultural gathering place, 44 km southwest of Prince Albert. On May 9–12, 1885, Batoche was the site of the last pitched battle on Canadian soil, when approximately 300 Métis, Cree and Dakota, led by Gabriel Dumont, clashed with Frederick Middleton's 900 Canadian volunteers. A former Métis wintering (hivernant ) community, Batoche (or "St. Laurent Settlement," as it was originally known) was founded in 1871 by Métis émigrés from Manitoba. After 1873, the community gradually became known as Batoche in honour of the Batoche family, whose patriarch, Xavier Letendre dit Batoche, opened a general store at the nearby crossing on the South Saskatchewan River. Today, Batoche is home to "Back to Batoche Days," an annual cultural celebration which occurs during the week of July 24 (on St. Joseph's Day, the Métis patron saint). During "Back to Batoche Days," thousands gather to celebrate Métis culture and heritage and reconnect with old friends. The modern festival originated in 1970; however, its antecedent, "St. Joseph's Day," ran from 1884 to the early 1930s. For the Métis, Batoche is more than a place to celebrate their culture: it is also a sacred place, where their ancestors resisted marginalization. It is the Saskatchewan equivalent of the Plains of Abraham or Queenston Heights. All that remains at the site are the remnants of the Métis' rifle pits, a church, a rectory, and a cemetery containing the graves of nine Métis killed during the Battle of Batoche.
Darren R. Préfontaine
Print Entry
Further Reading
Payment, D.P. 1990. The Free People - Otipemisiwak: Batoche, Saskatchewan, 1870- 1930. Ottawa: National Historic Sites, Environment Canada; - . 1996. "'La vie en rose?' Métis Women at Batoche, 1870-1920." Pp. 19-37 in C. Miller and P. Churchryk (eds.), Women of the First Nations: Power, Wisdom and Strength. Winnipeg: University of Manitoba Press.
This web site was produced with financial assistance
provided by Western Economic Diversification Canada and the Government of Saskatchewan.
Ce site Web a été conçu grâce à l'aide financière de
Diversification de l'économie de l'Ouest Canada et le gouvernement de la Saskatchewan.