Tchorzewski, Edwin Laurence (1943-2008)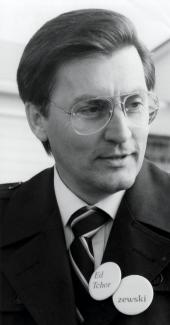 Born April 22, 1943, in Alvena, Ed Tchorzewski completed his secondary schooling in Hudson Bay. He completed a BA in Political Science at the University of Saskatchewan and taught in Humboldt with the separate school system.
Tchorzewski was elected for the NDP in Humboldt in the 1971 general election. He was appointed to Cabinet in 1972 as Minister of Culture and Youth and for Consumer Affairs. Tchorzewski moved into Education in 1975, Health in 1977 and Finance in 1979. In 1982, Tchorzewski lost in Humboldt as the Blakeney government was defeated. He was elected in Regina North East in a 1985 by-election. Re-elected in 1986, Tchorzewski was appointed deputy leader.
In 1991, the NDP was returned to power and Tchorzewski was re-elected in the new constituency of Regina Dewdney. He was appointed to Romanow's first Cabinet as Minister of Finance. In the 1992 budget, Tchorzewski introduced increases in taxation and cut government spending that ultimately balanced the provincial books in 1993. Tchorzewski left the Finance portfolio shortly before the 1993 budget to take the less demanding position of Provincial Secretary. Later in 1993, he took on responsibility for Education for several months and in 1995 took over as Minister of Municipal Government. Re-elected in 1995, Tchorzewski served his last term as a government backbencher. Tchorzewski was elected president of the federal NDP in 1997, and in 1999 he resigned from the Legislature to become chief of staff to federal NDP leader Alexa McDonough. Tchorzewski returned to Saskatchewan to be the NDP's campaign manager in 1999. In 2002, Tchorzewski was hired as special advisor to newly elected Premier Lorne Calvert. In 2004 he was hired as provincial secretary of the NDP. Ed Tchorzewski passed away on June 6, 2008.
Brett Quiring
Print Entry