Calvert, Lorne Albert (1952-)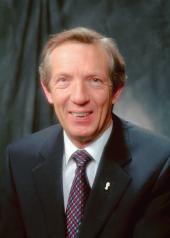 Lorne Calvert was born on December 24, 1952, in Moose Jaw. Given his deep commitment to community and Saskatchewan roots, it is not surprising that he has followed two paths in his public life: Religion and politics. Furthermore, his religious background helps to explain the strong social orientation he has brought to his work as an elected official.
After high school, Calvert obtained a BA in economics at the University of Regina and a Bachelor of Divinity in theology at Saint Andrew's College in Saskatoon. In 1976, he was ordained in the United Church of Canada. Calvert served congregations in various towns in Saskatchewan, including Perdue, Gravelbourg, Bateman, Shamrock, Coderre and Palmer. In the late 1970s, he returned to Moose Jaw to serve as a minister of Zion United Church. He remained in that position until 1986, when he was first elected to the Saskatchewan Legislative Assembly as the New Democratic Party (NDP) representative for the riding of Moose Jaw South. His decision to join the Saskatchewan NDP was in part influenced by his father who had been a long-time supporter of the Co-operative Commonwealth Federation.
Subsequently, Calvert was re-elected twice as the NDP representative for Moose Jaw Wakamow. Between 1992 and 1995, he was appointed to several important Cabinet positions: Associate Minister of Health and Minister responsible for the Wakamow Valley Authority (1992), Minister responsible for SaskPower and SaskEnergy (1992-93), and Minister of Health (1995). In the fall of 1995 he became Minister of Social Services. In that capacity, Calvert had to address issues relating to the Public Service Commission, seniors, and eventually disabilities.
In the late 1990s, Calvert decided to take a break from politics to spend more time with his family. After a two-year hiatus, he returned to politics in 2001 to contest the leadership of the Saskatchewan NDP. The leadership convention took place at the end of January in Saskatoon. For the first time in its history, the party was to use a direct form of voting (allowing all registered party members, as opposed to party delegates, to vote) to select its new leader. After four rounds of voting, Calvert finally defeated six challengers, including Nettie Wiebe, an ethics professor at Saint Andrew's College, and Chris Axworthy, the Minister of Justice in Roy Romanow's government. In the last round of voting, he defeated Axworthy with 10,289 votes (or 57.6% of the vote). Calvert officially assumed the duties of Premier of Saskatchewan on February 8, 2001, and won Roy Romanow's former seat of Saskatoon-Riverdale one month later.
When Calvert became Premier of Saskatchewan, the NDP government was in a coalition with the Liberal Party. As a result of the 1999 provincial election, the NDP found itself with 29 seats, the Saskatchewan Party with 26 seats, and the Liberal Party with 3 seats. Eluding the legislative majority by one seat, the NDP then formed Saskatchewan's first coalition government in almost seventy years with the Liberal Party. Liberal MLAs Jim Melenchuk, Ron Osika, and Jack Hillson were given positions in the Romanow government. After Romanow's retirement from politics, Calvert was able to renew the coalition by appointing Jim Melenchuk as Minister of Education and maintaining Ron Osika as the Speaker of the Legislative Assembly. He later moved Melenchuk to Finance and Osika to Government Relations.
Although Saskatchewan's fiscal situation had dramatically improved since Romanow first became Premier in 1991, Calvert's approach to government finances has been cautious. In keeping with his NDP predecessors beginning with T.C. Douglas, he launched several social initiatives while keeping a close eye on the province's finances. Consequently, during his tenure as Premier, funds were provided for agricultural revitalization, highway repairs, childcare spaces, training and education opportunities, Health Care, and renewable energy projects. At the same time, measures such as government restructuring and tax increases on cigarettes and alcohol were implemented in order to ensure that budgets would remain balanced. Under Calvert's leadership, the NDP won 30 seats in the November 2003 provincial election and formed the government with the Saskatchewan Party forming a strong opposition with 28 seats.
Jocelyne Praud
Print Entry