Saskatchewan Police College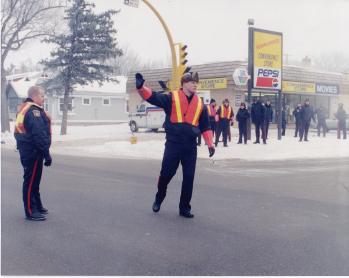 The Saskatchewan Police College, with its offices and classrooms located at the University of Regina, has been training municipal police officers on this campus since 1975. Housing the Saskatchewan Police College at the University of Regina has provided a positive learning environment for police officers, and this successful working partnership has enhanced the experience of police training by offering recruits and senior officers the opportunity to access university facilities such as classroom space, residences, recreation facilities, and libraries. In addition to providing in-service ongoing developmental training to municipal police officers, the College also offers positions on its in-service training courses to other enforcement and regulatory agencies: Saskatchewan Environmental and Resource Management (SERM) officers, Department of Social Services staff, Fire Investigators and Fire Commissioner personnel, and members of other police services often access its courses.
The Saskatchewan Police College operates under the authority and control of the Saskatchewan Police Commission by virtue of the Saskatchewan Police Act (1990). The Saskatchewan Police College's mission is to collaborate with Saskatchewan Municipal Police agencies and their memberships in order to provide professional police services to the people of Saskatchewan through the training of recruits and senior police officers. Beginning in 1995, the University of Regina and the Saskatchewan Police College embarked on extensive discussions, meetings, and planning events that culminated in 1999 in a unique partnership and a new degree program offered by the University: the Bachelor of Arts in Police Studies, a four-year degree program which combines police training with liberal arts education.
Patricia Joyce
Print Entry