Rocan, Mary (1913-2004)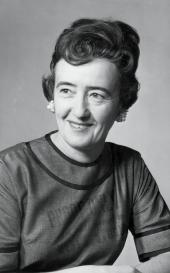 Mary Rocan played a pioneering role in bringing women's issues to the attention of the provincial government. Born in Brownlee on August 19, 1913, she later moved to Regina; her schooling included high school and business school. She joined the provincial government as a stenographer in 1937. In 1945, Rocan became secretary to the Minimum Wage Board in the newly established Department of Labour. In 1952 she was promoted to Assistant Director of the Labour Standards Branch. Seven years later she became founding supervisor of Saskatchewan's first Women's Bureau, a one-person bureau. Her duties as executive secretary to the Minimum Wage Board continued as part of her job until retirement in 1975. Subsequently, she served as Chair of the Minimum Wage Board from 1979 to 1990.
As Women's Bureau supervisor, Rocan attended the Saskatchewan hearings of the Royal Commission on the Status of Women. In 1973 she was appointed to the Task Force that reviewed the Commission's recommendations as they applied to Saskatchewan; the resulting report, entitled Saskatchewan Women, '73, made it clear that the issues facing women nationally also faced Saskatchewan women. Rocan's community involvements included a leadership role in the Soroptimists and service on the boards of the YWCA, Family Service Bureau, and Pioneer Village. Her many awards included the Governor General's Award in Commemoration of the Person's Case for her efforts to secure women's equality in the workplace (1993). She died on April 19, 2004, in Calgary.
Merran Proctor
Print Entry