Rawson, Donald Strathearn (1905- 61)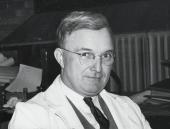 Donald Rawson was born in Claremont, Ontario, on May 19, 1905. He entered the University of Toronto in 1922, specializing in limnology. He demonstrated outstanding ability as a student and was awarded a doctorate at age 24; his doctoral thesis investigated the bottom fauna of Lake Simcoe. He was influenced by able men such as E.M. Walker, A.G. Huntsman, W. Harkness and J.R. Dymond, who kindled in him a love of the outdoors and of biology. In 1928 he joined the staff of the Department of Biology, University of Saskatchewan, where he became head of the Department in 1949.
Rawson married Hildred Patton in 1932; they had two sons, Eric and Bruce, and a daughter, Mary. His research in limnology covered two distinct periods. From 1928 to 1934 he concentrated on lakes of the newly established Prince Albert National Park. This work involved physico-chemical, biological, and fisheries studies, and included specific experiments in fisheries management. From 1935 to 1941 he carried out extensive research in the National Parks of the Canadian Rockies and in Riding Mountain National Park, Manitoba. The primary aim of these investigations was the collection of limnological information as applied to fisheries management, but contributions of fundamental significance also resulted, spanning the gap between theoretical and applied science. In the late 1930s Rawson surveyed saline lakes in southern Saskatchewan.
In 1942 Rawson began work on Canada's large northern lakes (including Reindeer, Athabasca and Great Slave Lakes) that brought him international fame. After 1947 he devoted most of his attention to investigations of Lac la Ronge and Amisk Lake in the Churchill River drainage system. Subsequently, many other northern Saskatchewan lakes were studied. He had a profound influence on the many graduate students who were involved with him in these investigations. He was particularly interested in the practical applications of his limnological studies: for example, he was instrumental in setting up a sound fisheries research program in Saskatchewan, under the jurisdiction of the Department of Natural Resources. He also played a part in the founding of the Canadian Society of Wildlife and Fishery Biologists.
Rawson was an efficient administrator employing tolerance and understanding. The W.P. Thompson Biology Building and the strong department it houses were largely his creation. He was a champion wrestler at the University of Toronto, and for many years coached wrestling at the University of Saskatchewan. Although all his studies took place in Canada, his outlook was international. He traveled widely in the United States and Europe, familiarizing himself with leading limnological investigations abroad.
He received many honours during his lifetime. He was president of the Limnological Society of America and of the Canadian Conservation Association; director of the Fisheries Research Board of Canada; a member of the Royal Commission on Fisheries for Saskatchewan; and a Fellow of the Royal Society of Canada. Rawson's death on February 16, 1961, at the peak of his scientific and teaching career, was a monumental loss to science in Canada.
U. Theodore Hammer
Print Entry