<%@include file="menu.html" %>

Welcome to the Encyclopedia of Saskatchewan. For assistance in exploring this site, please
click here
.
Murray, Christina (1866-1947)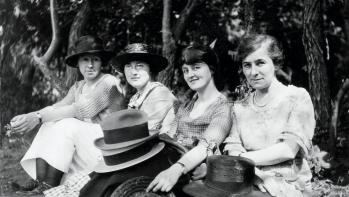 Born in Fredericton, NB, in August 1866, Christina Murray (Cameron) graduated from the University of New Brunswick in 1894. She married Walter C. Murray in 1895; they had three daughters. In 1909 the family moved to Saskatoon, where her husband had begun his presidency of the new University of Saskatchewan. Murray had numerous duties as university president's wife - assisting him, students, and staff - and both were awarded honorary doctorates in 1938, a year after his retirement. Becoming active soon after arrival, she increased her involvement during World War I, and in 1919 housed nurses who were assisting flu victims. She had also become involved in women's organizations. In 1916 she founded, and became first president of, the Local Council of Women. She became Saskatchewan vice-president of the National Council, and worked to found the Provincial Council (becoming president in 1918.) She was one of four Saskatchewan women to attend the Women's War Conference in Ottawa in February 1918. A charter member of the University Women's Club, founded in 1918, she remained active until her death. She also served as president of the Young Women's Christian Association. Later involvements included membership on the executive of the Saskatoon Arts and Crafts Society. Christina Murray died in Saskatoon on July 4, 1947.
Bob Ivanochko
Print Entry
Further Reading
Saskatoon Business and Professional Women's Club. 1976. Some Outstanding Women: They Made Saskatoon a Better Community.
This web site was produced with financial assistance
provided by Western Economic Diversification Canada and the Government of Saskatchewan.
Ce site Web a été conçu grâce à l'aide financière de
Diversification de l'économie de l'Ouest Canada et le gouvernement de la Saskatchewan.