<%@include file="menu.html" %>

Welcome to the Encyclopedia of Saskatchewan. For assistance in exploring this site, please
click here
.
McIntosh, C. Irwin (1926-88)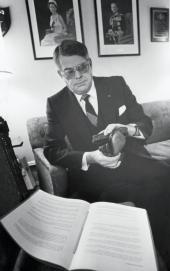 Cameron Irwin McIntosh was born in North Battleford on July 1, 1926, and educated at the University of Saskatchewan. His father, Cameron Ross McIntosh, was a Liberal MP from 1925 to 1940. In 1952 Irwin McIntosh took over from his father as president of McIntosh Publishing in North Battleford. In 1978, when Lieutenant-Governor George Porteous died in office, Pierre Trudeau appointed Irwin McIntosh as fifteenth Lieutenant-Governor of Saskatchewan. His tenure began in controversy when he expressed a public opinion in favour of capital punishment and was criticized by the Premier for doing so. He gradually restored positive relations between the vice-regal office and the NDP administration of Allan Blakeney, which had been cool since the time of Frank Bastedo. This was accomplished mainly through his support of the national unity campaign, following the election in 1977 of the first Parti Québécois government in Quebec, and his active participation in the provincial 75th anniversary program, "Celebrate Saskatchewan," in 1980. In 1981 Irwin McIntosh inaugurated the provincial vice-regal flag, based on a national pattern. Although he presided at the opening of the restored Government House in 1980, the office of the Lieutenant-Governor remained at the Hotel Saskatchewan. At the end of his tenure Mr. McIntosh publicly appealed for better accommodation for his successor. He died September 24, 1988.
Michael Jackson
Print Entry
Further Reading
Hryniuk, Margaret and Garth Pugh. 1991. "A Tower of Attraction": An Illustrated History of Government House, Regina, Saskatchewan. Regina: Government House Historical Society/Canadian Plains Research Center; Leeson, Howard A. (ed.). 2001. Saskatchewan Politics: Into the Twenty-first Century. Regina: Canadian Plains Research Center.
This web site was produced with financial assistance
provided by Western Economic Diversification Canada and the Government of Saskatchewan.
Ce site Web a été conçu grâce à l'aide financière de
Diversification de l'économie de l'Ouest Canada et le gouvernement de la Saskatchewan.