Blakeney, Allan E. (1925-2011)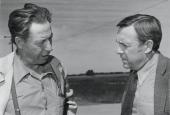 Allan Emrys Blakeney was Premier of Saskatchewan between 1971 and 1982. Born in Bridgewater, Nova Scotia, on September 7, 1925, he was a gold medalist in law school at Dalhousie University in Halifax. He won a Rhodes Scholarship to Oxford University, where he studied economics, modern history and philosophy.
Following his return to Canada, Blakeney went to work for the government of T.C. Douglas. He married Molly Schwartz in Halifax just prior to moving to Regina in1950. She was to die suddenly in 1957, and Blakeney was remarried in 1959 to Anne Gorham.
Blakeney occupied increasingly senior posts in the Civil Service, then in 1960 he won election as an MLA and was soon appointed to Cabinet. In 1962, the CCF government introduced North America's first public, tax-financed Health Care system. Most doctors were opposed, and on July 1 they went on strike. Blakeney played a key role in the negotiations, and when the crisis ended he was appointed Minister of Health.
Blakeney succeeded Woodrow Lloyd as NDP leader in 1970. Premier Ross Thatcher called an election for June 1971 and campaigned on his record. The NDP offered a detailed program called New Deal for People, and on June 23 won 45 of 60 seats. Blakeney turned quickly to improving health and social programs—a dental program for children, a prescription drug program, subsidized housing, home care, and a guaranteed income supplement to improve the lot of the elderly poor. The centerpiece of the agriculture program was a Land Bank (see Agricultural Policy), where the government purchased land, usually from older farmers, and leased it back to others, most often family members.
By 1975, Blakeney had concluded that the key to diversification and prosperity lay in Saskatchewan's burgeoning mineral sector. He created new Crown corporations, such as SaskOil, that became vehicles for government to become a major player in resource development. When potash companies balked at paying increased royalties and refused to pay their taxes, Blakeney responded by buying out half of the industry and creating the Potash Corporation of Saskatchewan to operate the government's mines.
On the national stage, Blakeney played a significant role in the constitutional debates of the 1980s. Prime Minister Trudeau made known his intention to bring Canada's constitution home from Great Britain, and to add to it a Charter of Rights. Blakeney was apprehensive about Trudeau's charter, which he believed would remove power from elected legislators and hand it to appointed judges. He played a pivotal role in negotiating a compromise where provinces accepted a Charter of Rights, but one that could be overridden by elected Legislatures.
Blakeney seemed poised in 1982 to win a fourth election. His was a clean and competent administration, and one that delivered an unbroken string of budget surpluses despite an activist government agenda. The Conservatives offered both lower taxes and more spending, a program that was popular but was later to almost bankrupt the province. The NDP suffered a resounding defeat in 1982, retaining a mere eight seats in the Legislature. Blakeney felt he had an obligation to rebuild the party, and he led the NDP into the 1986 election, which the NDP lost despite receiving marginally more votes than the Conservatives. Blakeney resigned in 1987, and was replaced by Roy Romanow as leader.
Blakeney and his wife Anne then spent two years in Toronto, where he occupied the Bora Laskin Chair in Public Law at Osgoode Hall. Later, they settled in Saskatoon, where he accepted the Law Foundation Chair at the University of Saskatchewan then remained as a visiting scholar at the College of Law. Blakeney remained active, served on numerous boards of directors and volunteer associations, but his most intense engagement was with South Africa, where he helped to develop the structures for democratic government following the dismantling of apartheid.
Tommy Douglas, summarizing the contributions of his successor, said that Blakeney had proved social democracy is a practical program and not just an impossible dream. He brought to his task as Premier an extraordinary mix of intellect, stamina and experience. He was a principled pragmatist, a decent, extremely capable man who provided good, honest and compassionate government, a most valuable contribution in any age.
Allan Blakeney died in April 2011.
Dennis Gruending
Print Entry
Further Reading
Blakeney, Allan. 1980. The Future of Canada: Speeches and Interviews by Hon. Allan Blakeney in the Course of a Trip to Ontario and Quebec, April 1980. Regina: Government of Saskatchewan; Blakeney, Allan and Sandford Borins. 1992. Political Management in Canada. Whitby, ON: McGraw-Hill Ryerson; Gruending, Dennis. 1990. Promises to Keep: A Political Biography of Allan Blakeney. Saskatoon: Western Producer Prairie Books.