<%@include file="menu.html" %>

Welcome to the Encyclopedia of Saskatchewan. For assistance in exploring this site, please
click here
.
Lane, John Gary (1942-)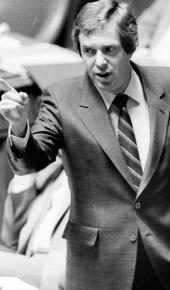 Gary Lane was born in Saskatoon on May 2, 1942. He received a BA in history in 1963 and a Bachelor of Laws in 1966, articling in Saskatoon before joining the Department of the Attorney General as a Crown Solicitor and executive assistant to the Attorney General. In 1971 he founded the firm Lane and Whitmore. Lane was elected as a Liberal to the Legislative Assembly for Qu'Appelle-Lumsden in 1971 and re-elected in 1975. Though considered a successor to Liberal leader David Steuart, Lane, along with Colin Thatcher, switched parties. After the Progressive Conservatives swept into power in 1982, Lane became Minister of Justice and Attorney General. In 1984 he was given the additional responsibility of the Employment Development Agency. In 1985 Lane became the Minister of Finance. He was also given responsibility for the potash Corporation of Saskatchewan (PCS). Lane was appointed to the Cabinet Planning and Priorities Committee as well as to the board of the Crown Investments Corporation. Lane oversaw the Privatization of PCS in 1989. Its sale prompted the New Democratic Party to filibuster in the Legislature. It was the longest debate over Legislation in Saskatchewan's history, and ultimately the government forced closure on the issue, a first for Saskatchewan. Lane was instrumental in establishing the Saskatchewan Pension Plan, the first of its kind in North America. Lane was also appointed as the Minister responsible for Saskatchewan Telecommunications and oversaw the establishment of individual line telephones to rural Saskatchewan. In 1989, Lane was returned to the positions of Minister of Justice and Attorney General. In 1991, he was appointed to the Saskatchewan Court of Appeal.
Dana Turgeon
Print Entry
Further Reading
Saskatchewan Archives Board. J. Gary Lane Fonds. GR 634, Regina.
This web site was produced with financial assistance
provided by Western Economic Diversification Canada and the Government of Saskatchewan.
Ce site Web a été conçu grâce à l'aide financière de
Diversification de l'économie de l'Ouest Canada et le gouvernement de la Saskatchewan.