Hungarian Settlements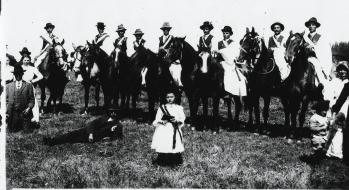 Over a quarter of a century, beginning in 1885, Hungarian immigrants developed at least ten named settlements in three regions of Saskatchewan. In the eastern region, Esterhaz colony (Esterhaz Magyar Kolonia) was planned by Count Paul Oscar Esterhazy, who adopted his name from a wealthy land-owning family in Hungary and, acting as a Canadian Pacific immigration agent, obtained 125,000 acres in 1885. He succeeded in persuading Hungarian, Czech and Slovak miners from Pennsylvania to move to the Canadian Prairies, where abundant farmland was available at minimal cost. After some were settled in Huns' Valley (originally Hungarian Valley) west of Minnedosa, Manitoba in 1885, larger numbers arrived in Esterhaz colony in 1886. As Hungarian settlement quickly spread southward toward the Qu'Appelle River, by 1888 the extended colony became known as Kaposvar, after the Hungarian city where the Esterhazy family estates were located. By 1902 Esterhazy and Kaposvar had a population of over 900 settled on 200 homesteads, and 14,000 acres were under cultivation.
Hungarian settlement was further extended westward to Stockholm, a Swedish colony founded in 1886, when the priest at Esterhazy promoted the settlement of some fifty Hungarian families in what they called Sokhalom ("many hills"), an obvious play on words; it also spread northward toward Yarbo and Zeneta, and eastward toward Gerald. In 1894 the Hungarian colony of Otthon ("home"), located between Melville and Yorkton, was founded by Rev. Janos (John) Kovacs, a minister of the Hungarian Reformed Church in Pennsylvania. This small colony attracted immigrants both directly from Hungary and via the United States. The Bekevar colony around Kipling began to develop in 1902 after Janos Szabo, having read about the success of Rev. Kovacs at Otthon, decided to establish another Reformed colony. The focal point of the colony was the large double-steepled Reformed (later Presbyterian) church, although soon a smaller rival Hungarian Baptist congregation was very active, conducting baptisms in a slough. The Reformed church had its Bekevari dalarda (choir), Christmas concert called Viragfakardas ("blossoming time"), and an annual picnic. The initial settlers came from Botragy, northeast Hungary, which had a strong Reformed congregation. Bekevar colony grew rapidly to include four school districts: Kossuth, Magyar, Rakoczi, and Little Mountain.
Many Hungarian immigrants settled in the north-central region of Saskatchewan. The town of Wakaw became virtually surrounded by Hungarian settlements around the turn of the century. To the north, Buda school district was founded by Hungarian settlers, but today they are outnumbered by Ukrainians. Hungarian settlers were also found in the Ens district to the west (together with Ukrainians, Germans, and French) and in the Lone Pine district to the east (with Ukrainians). To the west of Wakaw, the Dunafoldvar district was settled by immigrants from Dunafoldvar, Hungary; today their descendants share the district with Ukrainian farmers. South of Wakaw Lake, the Matyasfold ("land of Matthias") settlement developed under the original guidance of Zoltan Rajcs. The Crooked Lake and Bukovina districts (including the hamlet of Lepine) were mixed Hungarian and Ukrainian. Further east, Hungarians mixed with French in the Belmont and Bonne Madone districts (including Reynaud). Hungarian settlement eventually extended continuously far to the east and northeast, around Basin Lake, Little Moose Lake (where French priests from St-Brieux served a largely Hungarian congregation at St-Philippe Mission), and Meskanaw. To the southwest, between Wakaw and Prud'homme, St. Laszlo colony developed in 1900-05, receiving overflow from Matyasfold and Dunafoldvar; in fact, many original settlers such as the extended Miskolczi family arrived from Dunafoldvar, Hungary. Eventually this Hungarian settlement spread southeastward around Muskiki Lake, where Hungarians mixed with Ukrainian and German neighbours, and southward toward predominantly French Prud'homme. St. Laszlo church, constructed in 1911, long remained a focal point of Hungarian communal activity, together with the school and community hall. However, throughout the north-central region, the very dispersion of Hungarian settlement into districts also settled by Ukrainians, Germans, and French would inevitably hasten assimilation through intermarriage, especially as these Germans and French shared their Catholic Religion with Hungarians.
Finally, two other Hungarian settlements developed in the south-central region. Szekelyfold ("land of the Szekelys," Carpathian Magyars), in the hills southwest of Lestock, commenced in 1906 and included the Magyar, Zala, and Arbury districts; homesteads were constructed in traditional Szekely style; Szekely immigrants from six villages in Bukovina were joined by ethnic Hungarians and Romanians from southern Bukovina. The Pinkefalva colony near Plunkett was founded in 1908 by Imre Pinke, an immigrant from western Hungary via the United States who attracted settlers by writing about homesteading in Hungarian-American newspapers. The Hungarian population in Saskatchewan grew to 8,946 in 1921, 13,363 in 1931, and 14,576 in 1941; it then declined to 12,470 in 1951. The most recent census data (2001) reveal a total 24,340 people claiming Hungarian ethnic origin, of which 24% (5,875) claimed Hungarian-only origin, compared to 76% (18,465) who also claimed other ethnic origins.
Alan Anderson
Print Entry