Czech and Slovak Settlements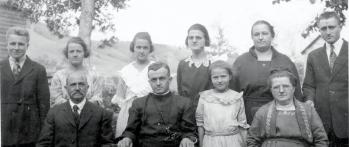 Czech and Slovak settlement in Saskatchewan began in 1884, when four Czech families Pangrac, Junek, Dolezal, and Skokan) from Bohemia settled in the Kolin district near Esterhazy. Count Paul Esterhazy brought Slovaks to his primarily Hungarian colony of Huns' Valley, west of Minnedosa, Manitoba in 1885, then to the new Esterhazy colony in Saskatchewan the next year. Bohemian Czechs from the Volhynia region in Ukraine settled around Gerald, just northeast of the town of Esterhazy, in 1898: so the entire region around Esterhazy had small concentrations of Czechs and Slovaks, outnumbered by Hungarians. In 1901 George (Juraj) Zeman, an American Slovak, was appointed as a CPR colonization agent. Anxious to help get his people out of dangerous, unhealthy work in mines, mills and refineries (especially in Pennsylvania) and back into Farming, he introduced Czech and Slovak families to the central region in Saskatchewan around Davidson, kenaston, Hanley, Glenside, Broderick, Hawarden, Strongfield, and Milden. Other Czech families settled further west around Marriott in the Valley Centre district in 1902. Beginning in 1905, several Slovak families (Mlazgar, Tomecko, Beros, Mantyak, Pletz, Krafchek, Tkach) emigrated north from Minnesota and homesteaded in the Lipton area. Other related families (Salamon, Ondic) followed, settling in and around Lebret and Balcarres. Much later, large numbers of ethnic Germans from Sudetenland would settle around St. Walburg, Brightsand Lake and Loon Lake, to the northeast. Most of the early Czech and Slovak settlers were Roman Catholics. They tended not to form separate parishes in Saskatchewan but to join their Ukrainian, Hungarian, Polish and Croatian neighbours; undoubtedly this facilitated intermarriage. But some Czechs and Slovaks were Lutheran, Reformed or other Protestant; Hus Chapel in Glenside was named after the progenitor of the Hussite or Moravian Brethren movements.
Despite their relative isolation, Czechs and Slovaks in rural Saskatchewan became integrated into ethnic networks uniting them with their co-ethnics across North America. The earliest Czech organizations in Canada were local community associations at Kolin and Esterhazy in 1912, which were responsible for a Czech cultural revival in these enclaves during the 1930s. Kolin also had a service club called the Good Companions, led by the Czech minister of the United Church in Esterhazy, with the aim of promoting Czech culture and language in the next generation. A national Czech Benevolent Association was founded in Winnipeg in 1913, connected with the Bohemian National Alliance in the United States. Similarly, Slovaks founded local benevolent associations which became federated into the Canadian Slovak Benevolent Society in 1946. Czechs and Slovaks were united in Sokal, a sports and recreational society with many local chapters in Canada and the US; one early chapter was established at Goldburg, Saskatchewan. The Canadian Slovak League was formed in 1932. The National Alliance of Slovaks, Czechs, and Subcarpathian Ruthenians, established in 1939, later became the Czechoslovak National Alliance of Canada, then in 1960 the Czechoslovak National Association of Canada. There have been wide variations in counting Czechs and Slovaks in Canadian census data. While the earliest concentrations were found in the Prairies and British Columbia, later they were far outnumbered by co-ethnics in central Canada. The most recent census (2001) data counted 4,735 residents of Saskatchewan who claimed Czech ethnicity; 950 of them claimed to be only of Czech origin, compared to 3,785 who also claimed other ethnic origins. In 1991 only 615 people in Saskatchewan claimed Slovak ethnicity.
Alan Anderson
Print Entry