Hnatyshyn, Helen (1909-93)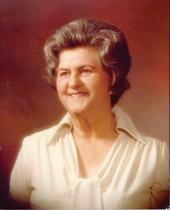 Helen Hnatyshyn (née Pitts) was a teacher, community activist, and human rights leader in the Ukrainian Canadian and mainstream communities. Born in Wroxton, Saskatchewan on July 12, 1909, she completed schooling in Yorkton, and then obtained her teaching certificate from Normal School in Saskatoon. After teaching for several years, she settled in Saskatoon with her husband John; they had four children. Hnatyshyn's many activities included a prominent role in the Council of Women: she was a leader on local, provincial, national, and international levels. In 1973 she was appointed to the Advisory Council on the Status of Women, and traveled across Canada. She also served on the Saskatchewan Human Rights Commission, and her volunteerism included extensive (local) participation in organizations such as the YWCA, Red Cross, and United Appeal.
In the Ukrainian Canadian milieu, she was president of the Ukrainian Women's Association of Canada (Saskatoon branch) and its provincial executive. She also helped to establish the Ukrainian Canadian Women's Committee in Saskatoon. Her numerous awards for outstanding service included an honorary Doctor of Law degree and the Governor-General's Persons Award. Hnatyshyn died in Saskatoon on December, 9, 1993. To honour a project she had made before, the National Council of Women sponsored a woman from Ukraine to attend the International Council of Women Triennium in Paris in 1994.
Natalie Ostryzniuk
Print Entry