Hobbs, William (1927-)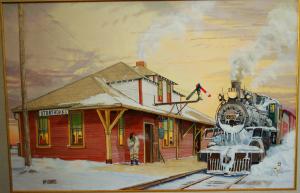 William G. Hobbs was born in Alderney of the Channel Islands on May 16, 1927. His family moved around considerably due to his father's career in the British Army. The family eventually settled in his father's home town of Plymouth in the county of Devon. During the Second World War, William along with his three brothers Frederick, John and Dennis, was evacuated from blitz-torn Plymouth to Penzance. Just after the war, William did his military service and received a scholarship to study medicine. He went to Bristol University where he also realized and developed a talent for art. His sketches and paintings were admired by art teachers at the university who advised him to study art rather than medicine. Nonetheless, William Hobbs graduated from Bristol with a degree as a general practitioner in medicine. He then joined the Royal Navy in the tradition of his family and became a ship's surgeon in 1950.
William Hobbs emigrated to Canada in 1959. There, he began a career as a physician and surgeon in the village of Gainsborough, Saskatchewan, and became a respected physician in the southeast of Saskatchewan and southwestern Manitoba. He was "on-call" twenty four hours a day.
Notwithstanding the considerable demands in time alone imposed upon him by his role in this rural community, he managed to develop a technical skill in painting which won him first prize in a major Canadian art show in 1978. Hobbs also attended courses at the Pan American University, Banff School of Fine Arts, and the Emma Lake Campus at the University of Saskatchewan.
Hobbs also served as the mayor of Gainsborough, and was instrumental in the paving of the community's streets and the building of a swimming pool. In 1972, he rescued and restored the Gainsborough train station restoring it to its original grandeur of 1928. He converted the building into an art school and art instructors were recruited from Europe to teach. William Hobbs is still much respected by the village and one of his paintings adorns the town sign on Main Street.
Hobbs also restored the Flood Residence on College Avenue in Regina, Saskatchewan, and was a Double Heritage Award winner for this accomplishment.
He took the first place at the Fifth Texas International Art Show in 1976 and second place at the seventh in 1978. He has been honoured with a number of one-man shows, as well as having his work selected for showing at the International Grand Prix of contemporary Art in Monte Carlo. His work was on exhibit at the winter garden pavilion in December 1978 under the high patronage of the Sovereign Prince and Princess of Monaco. Much of Hobbs's work reflects the influence his immigration had on him, as is portrayed in a series consisting of six major works on that subject. His work is in many North American and European collections and also in those of Mitsubishi Ltd., Marubeni Ltd., Tohoku Electric Power of Japan, and other collections internationally.
In 1987, Hobbs was commissioned to do a painting of the Regina Legislature Building to commemorate its 75th Anniversary. In 2005, Hobbs was commissioned to do the portrait of LCol Wilfred Merle Musgrove for CFV/ASU Shilo, Manitoba.
Today, Hobbs is primarily known for his paintings of prairie train stations. He enthusiastically painted stations of tiny prairie communities, often donating money to their restoration. He regarded the structures as the jewels of prairie architecture. His paintings usual portray a train arriving at a station with an aboriginal in a Hudson Bay blanket, and, quite often, there is a Dominion flag blowing in the wind and a little dog barking at a train. Today, his paintings may be found in rural train museums, and also on the cover of Forgotten Gardens, Abandoned Landscapes, and Remarkable Restorations, by Shirley Harris.
Britannia Hobbs