Zero-effluent Pulp Mill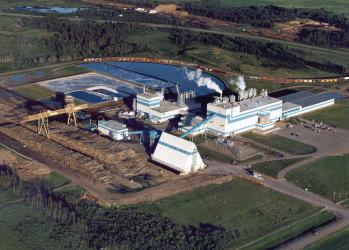 A pulp mill at Meadow Lake, Saskatchewan, is the first in the world not to discharge any effluent or waste water into any nearby creek, river, stream or lake.
Millar Western Pulp (Meadow Lake) Ltd. operates the state-of-the-art manufacturing facility, which has an international reputation in the production and marketing of bleached chemi-thermo-mechanical pulp (BCTMP). With its advanced pulp processing and environmental control technology, the Meadow Lake pulp mill has helped set new standards for responsibility in the forest products industry. In 1989, the Crown Investments Corporation of Saskatchewan and Millar Western Industries of Edmonton formed a partnership to build the Meadow Lake mill; the two-line, totally chlorine-free BCTMP mill began operating in 1992. Since then, it has held a leading position in the global BCTMP sector in terms of environmental performance, market development, product quality, cost efficiency, and productivity. The mill now produces up to 325,000 air-dried metric tonnes (ADMT) of pulp annually, well above its initial design capacity of 240,000 ADMT.
Certified to the ISO 9001: 2000 standard for quality management and the ISO 14001 standard for environmental management, the Meadow Lake mill produces pulp from aspen, a hardwood tree that grows virtually everywhere in Saskatchewan. The facility produces seventeen different grades of pulp for specific paper and board end-use applications, and is in high demand around the world for its consistent quality and exceptional papermaking properties. It also continues to be recognized for its pioneering environmental technology. As a zero-effluent-discharge mill, the facility cleans and reuses its process waste water; this water recycling system not only eliminates the discharge of effluent to the environment, but also significantly reduces the mill's fresh-water intake compared to that of other BCTMP mills and conventional kraft mills.
Joe Ralko