Webster, David (1885-1952)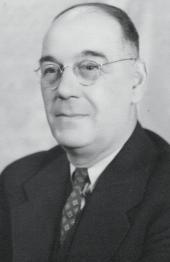 Born in 1885, David Webster was one of Saskatoon's first architects, opening his practice in 1906. He was responsible for the design of the castle-style Saskatoon schools built between 1910 and 1914: Caswell, Albert, King Edward, Westmount, King George, and Sutherland. Other well-known projects from this period include the King George Hotel, City Hospital Nurses' Residence on King Street, and Hopkins House on Saskatchewan Crescent West. From 1915 to 1918 Webster served in wartime Europe; he resumed his practice in 1919. Post-war projects included the Modern Press Building, Royal Canadian Legion on 19th Street, the Capital Theatre (associate architect), the Saskatchewan Normal School, Saskatoon Police Station, and the Post Office Building. In 1930 he formed a partnership with Edward Gilbert. During the lean years of the 1930s their major projects included Saskatoon Armouries, Davis Dairies, Saskatoon City Hall and Civic Centre, and the Ukrainian National Federation Hall.
In 1939 his son John became a partner in the firm, and Webster left to become Deputy Minister of Public Works for Saskatchewan until 1948, leaving to supervise the construction of University Hospital until 1950. Webster was elected a Fellow of the Royal Architectectural Institute of Canada in 1930. He held membership card Number One from the Saskatchewan Association of Architects, and served as Association president for six terms between 1918 and 1936. David Webster died on January 01, 1952.
Ann March
Further Reading
E.J. Gilbert. 1969. Up the Years with the S.A.A. The Saskatchewan Association of Architects.