Vickers, Jonathan Stewart (1926-)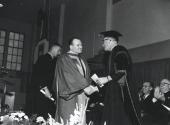 From the late 1950s to the late 1980s, Jon Vickers was Canada's pre-eminent operatic tenor. Known for the heroic roles he played, Vickers performed in most of the major opera houses of the world, enjoying particularly close relationships with Covent Garden in London and the Metropolitan Opera in New York. Vickers was born on October 29, 1926 in Prince Albert to Myrle and William Vickers, a school principal and a lay preacher in the Presbyterian and Methodist churches. His early life in Saskatchewan decisively shaped his personality and worldview: strong faith, hard work, a sense of duty, and tremendous loyalty were inculcated in him by his family and formed the basis for his subsequent career. In 1946, Vickers left Saskatchewan for good, working first for the F.W. Woolworth Company in small-town Manitoba and northern Ontario, and subsequently for the Hudson's Bay Company in Winnipeg. Coincidentally, his wife, Henrietta (Hetti), whom he married in 1953, had lived in Moose Jaw for six years in the 1940s, when her father was the minister of Metropolitan United Church in Regina.
In 1950, after several years singing and performing in churches and amateur productions, Vickers received a scholarship to attend the Royal Conservatory of Music in Toronto, where he studied with George Lambert. Although he obtained increasing numbers of engagements with the Toronto Opera Festival and the Canadian Broadcasting Corporation, by the mid-1950s he was at the point of quitting singing in order to better provide for his growing family when he came to the attention of David Webster, the general administrator of the Royal Opera House, Covent Garden. Vickers auditioned for him in Toronto in November 1955, and by the following summer had agreed to an eighteen-month contract. Vickers made his Covent Garden debut on tour in Cardiff as Gustavus III in Verdi's Un ballo in maschera on March 4, 1957; his first London performance followed on April 24 (Don José in Carmen). His immense success with the London public was confirmed by his performance of the demanding role of Enée in Berlioz's Les Troyens in June of that year. Other important debuts soon followed: Bayreuth (Siegmund, 1958); Vienna (Siegmund, 1959); San Francisco (Radames, 1959); and the Metropolitan Opera in New York (Canio, 1960), where he was to appear regularly for the next twenty-seven years.
Vickers was a highly individual singer who essentially created his own vocal category (Fach) to suit the characteristics of his unique voice and personality: a big sound, carefully controlled but capable of immense power and passion; dramatic stage presence; and a preference for passionate, tragic roles over the empty, romantic ones characteristic of much of the traditional tenor repertory. Vickers' distinctive timbre is unmistakeable, as is his highly expressive delivery of the text. In later years, some critics grew uncomfortable with what they saw as mannerisms in his singing: a frequent alternation between full-voiced singing and almost crooning (also on long-held syllables), distorted vowel sounds, and rhythmic freedoms. No other tenor of his time performed such a variety of demanding, dramatic roles. In his prime, Vickers owned the roles of Siegmund (Die Walküre), Florestan (Fidelio), Otello, Tristan, and Enée, and also enjoyed particular success as Parsifal, Hermann (Queen of Spades), Canio (Pagliacci), and Don José. He also appeared at the Metropolitan as Laca (Jenúfa), Alvaro (La forza del destino), and Samson (both Handel's and Saint-Saëns'); in Boston as Benvenuto Cellini; and in Paris as Monteverdi's Nero (L'incoronazione di Poppea). His Peter Grimes, although apparently disliked by the composer, is regarded by many as definitive, and survives in a 1981 BBC video production from Covent Garden. Among his many recordings, those of Grimes (Davis, 1978), Otello (Karajan, 1974), Tristan (Karajan, 1972), Enée (Davis, 1970), Siegmund (Karajan, 1967), and Florestan (Klemperer, 1962) are particularly noteworthy.
Like Callas, Vickers believed firmly that his place was to serve the composer, not himself. Paradoxically, this deference to the composer often expressed itself in violent arguments with conductors and directors that gave him the reputation of being difficult and egotistical. Yet Vickers demanded no less of himself than he did of others, always searching for the moral and dramatic truth of a character. For Vickers, opera was not entertainment and, in later years, he attacked what he saw as the increasing commercialism of the business. Like many Canadians who attain international fame, Vickers had an ambivalent relationship with his native land. For many years, he owned and operated a farm near Orangeville, Ontario, but moved to the Bahamas in 1973 for tax reasons. Although his honours included the Order of Canada (Companion, 1969) and a Governor General's Performing Arts Award (1998), he often felt unappreciated by Canadians, and on occasion publicly attacked Canada for its lack of culture and lack of public support for the performing arts. Yet he chose to make two concert performances of Parsifal, Act II, in Kitchener-Waterloo in 1988 - his final performances.
Stephen McClatchie
Further Reading
Williams, J. 1999. Jon Vickers: A Hero's Life. Boston: Northeastern University Press.