Vernon, John (1932-2005)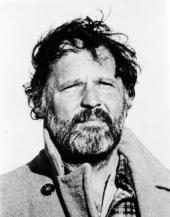 Actor John Vernon was born Adolphus Raymundus Vernon Agopsowicz in Regina on February 24, 1932. From 1935 to 1953 he attended St. Joseph's School and Campion College, where his acting career began under the direction of Rev. Arthur Nelson, S.J. and Mary Ellen Burgess at Regina Little Theatre. He studied at the Banff School of Fine Arts, the Royal Academy of Dramatic Arts (RADA) in London, England, and with the Hornchurch Repertory Company near London. Returning to Canada, he worked at the Stratford Festival and in Toronto in theatre, radio and television. He left Royal Hunt of the Sun on Broadway in 1966 to return to Canada for Wojeck, his most popular television series.
Vernon's many major roles in Hollywood movies included: Point Blank, starring Lee Marvin; Alfred Hitchcock's Topaz; Dirty Harry, with Clint Eastwood; and Animal House. He was guest star on numerous television series such as The FBI, Bonanza, Gunsmoke, Mission Impossible, and In the Heat of the Night. His resumé listed more than 85 film roles since his debut as the voice of Big Brother in 1984 in 1956. Vernon was married to Nancy West, with whom he had four children, including actress Kate Vernon. He was awarded an Honorary Doctorate of Laws by the University of Regina in 1976. Vernon died at his home in Los Angeles on February 1, 2005.
Lyn Goldman