Ukrainian Catholics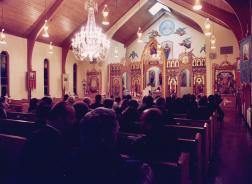 From 1901 to 1911, the Ukrainian Catholic population on the territory that became Saskatchewan increased rapidly as the province was settled by eastern European immigrants. Most Eastern Catholics were Ruthenians, belonged to the Byzantine (Greek) rite and began to call themselves Ukrainians as Ukrainian national self-consciousness grew and displaced the older ethnic Ruthenian identity. Just as it is difficult to say who was Ukrainian prior to 1931 because civil jurisdictions such as Austrian, Hungarian, Polish, and Russian rather than language or ethnic origin were used for passport and self-identification purposes, most Ukrainian Catholic settlers in Saskatchewan were sometimes erroneously counted in Roman Catholic or Orthodox statistics until the 1931 Canadian Census made a separate category for them. Most came from Galicia and, to a lesser extent, Bukovyna, both provinces of the Austro-Hungarian Empire. While most used Ukrainian as a vernacular, some used Romanian, and others Polish or Russian; but all used Old Church Slavonic as a liturgical language, as well as the liturgy of St. John Chrysostom, common to both Orthodox and Greek Catholics. The canon law organizing the life of the Church contains significant differences from Roman canon law, since it grows out of Greek Orthodox canons, yet acknowledges the Pope of Rome as the head of the Church.
Many of the immigrants' faith and loyalty to Rome were shaken by the efforts of those who sought to assimilate them into English Protestant organizations or into Roman Catholic parishes. It is estimated that in the early part of the 20th century about one-half to two-thirds of all recent Ukrainian Catholic immigrants eventually joined other religious denominations. In Saskatchewan, in descending order of numbers involved, Ukrainian Catholics joined Ukrainian Orthodox, Roman Catholic, Russian Orthodox, Romanian Orthodox, Presbyterian and Methodist (both going into the United Church of Canada in 1925), and Baptist churches. By 1931 the large-scale move to other churches had ended, and over 30,000 people claimed adherence to the Ukrainian Catholic Church within Saskatchewan, somewhat more than those who claimed adherence to Orthodox churches.
Nicetas Budka, a diocesan priest from the Eparchy of Lviv, was named the first bishop for all Eastern Catholics of Canada in 1912. While he chose Winnipeg as his see, he and his successor, Basil Ladyka, worked extensively in Saskatchewan, where a third of Canada's Eastern-rite Catholics lived. Saskatchewan's demographic importance to the Eastern Catholic Church was made evident when Rome established the Saskatoon Apostolic Exarchy (missionary diocese) on April 7, 1951. It was raised to the status of an Eparchy (or diocese) on November 3, 1956, as a suffragan of the Byzantine Archeparchy (archdiocese) of Winnipeg. The number of Eastern Catholics, almost all of them Ukrainians, in Saskatchewan between 1941 and 1951 was nearing 40,000; and geographical dispersal of the faithful required immense travel for Winnipeg's bishop. Saskatchewan's first bishop (1951-82) was Andrew Roborecki, who chose St. George's parish in Saskatoon as his cathedral. He was followed by Basil Filevich (1984-95), Cornelius Pasichny (1995-98), and Michael Wiwchar (2000-).
While the 2001 Canadian Census reported about 17,000 Ukrainian Catholics in Saskatchewan, the Eparchy released figures in 2003 showing that something less than 13,000 Ukrainian and other Eastern Catholics were officially members, placing them at 1.3% of Saskatchewan's population, and dropping. They were organized in over 100 parishes and missions, cared for by twenty diocesan and religious priests (Congregation of the Most Holy Redeemer, Redemptorists), as well as eighteen religious sisters (Ukrainian Catholic Sisters of St. Joseph, Ukrainian Catholic Sisters Servants of Mary Immaculate, and Ukrainian Catholic Sisters of the Holy Family) and two brothers (Redemptorists), caring for missions, schools, and hospitals.
The Eparchy heads the Ukrainian Catholic Council of Saskatchewan, the Ukrainian Catholic Brotherhood of Canada, the Ukrainian Catholic Eparchy Youth Ministry, the Ukrainian Catholic Women's League of Canada-Saskatchewan, the Right Reverend Mitrat John Olynyk Bursary Fund for Seminary and Seminarians, the Andrew Roborecki Foundation, the Eparchial Vision for Renewal Commission, the Sheptytsky Institute (a co-educational institution for post-secondary students at the University of Saskatchewan), St. George's Ukrainian Senior Citizen's Residence, St. Volodymyr Villa Corporation (condominiums), Musée Ukraina Museum, St. Volodymyr Ukrainian Park and Summer Camp, St. Michael's Camp at Madge Lake, and Fides Club (Business and Professional Ukrainian Catholic Men's Club). The Eparchy is supported by the Ukrainian Councils of the Knights of Columbus in Saskatchewan.
Although Ukrainian Catholics are well organized and comprise the seventh-largest religious group in Saskatchewan, the depopulation of rural Saskatchewan where most Ukrainian immigrants had originally established themselves, and continued assimilation into the Roman Catholic Church have raised the question whether the Eparchy would be suppressed or reintegrated into the Archeparchy. The question became acute during the interregnum of 1998-2000, when the Eparchy relied on the Metropolitan Archeparch (Archbishop) of Winnipeg for episcopal services. Rome's transfer of Bishop Wiwchar from Chicago to Saskatoon allayed these questions, however, and the Eparchy of Saskatoon continues to organize and provide local religious leadership to Saskatchewan's Eastern-rite Catholics.
National, linguistic, and ritual differences continue to divide Eastern Catholics in Canada's larger urban centres; but Saskatchewan's stable population and relative lack of new immigration that would strengthen Old World differences have created a new ecclesiastical situation. Since 1991, the close identification of the Eparchy with Ukrainian Catholics is gradually waning because a majority of Ukrainian Catholics living in Saskatchewan now speak English as a first language. This breakdown of the Ukrainian language is creating a more broadly based Byzantine Catholic population using English as a vernacular and, increasingly, as a liturgical language that is more welcoming to a younger English-speaking generation who would have previously left to attend English services elsewhere. While Ukrainian became the official liturgical language when the Second Vatican Council allowed vernacular languages to be used in liturgical worship, the younger generation's pressure to use English and to adopt the Gregorian calendar in place of the older Julian calendar is slowly creating a neutral meeting place for all Eastern Catholics, even those from a background other than Ukrainian. However, Roman Catholicism, other denominations, and even a lack of religious affiliation continue to attract individuals; and the number of Eastern Catholic Christians, once a distinctive mark of Saskatchewan, is steadily declining.
Paul Laverdure