Tuberculosis Control
The Saskatchewan Anti-Tuberculosis League was founded in 1911, at the instigation of provincial health commissioner Dr. Maurice Seymour, with the appointment of Dr. W.M. Hart of Duluth, Minnesota, as the first medical superintendent. TB was then an epidemic raging out of control in Saskatchewan, with nearly 1,000 new cases every year, and one or two deaths each day.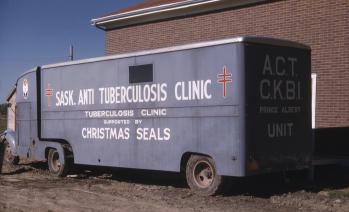 Dr. Hart joined the medical corps during World War I and chose not to return to Saskatchewan. The first TB sanatorium was built at Fort Qu'Appelle ("Fort San"), with Dr. R.G. Ferguson in charge. Dr. H.C. Boughton headed the follow-up department until 1925, when the Saskatoon San was opened under his direction; he retired in 1959. Dr. R.W. Kirkby directed treatment of veterans and children at Fort San until he took charge of the Prince Albert San when it opened in 1930. Dr. Ferguson then became director of medical services and general superintendent of all three sanatoria, with the appointment of Dr. T.W. Hamilton as medical superintendent at Fort San from 1930 until his death sixteen years later.
Dr. Ferguson was a leader, an educator and a researcher of international importance. Under his leadership, Saskatchewan had the lowest tuberculosis death rate in Canada from 1921 to 1940. In January 1929 Saskatchewan became the first jurisdiction in North America to provide TB treatment at no cost to the patient. In the 1930s, Dr. Ferguson and Dr. A.B. Symes, from the Indian Hospital in Fort Qu'Appelle, established the value of BCG (Bacillus Calmette-Guérin) vaccination among newborn Aboriginal infants and student nurses; the vaccination was about 80% effective in preventing tuberculosis among high-risk subjects. The first mass x-ray surveys in North America were made possible by Bob Connell, who ingeniously modified a 35 mm camera to photograph the fluoroscopic image of the chest that was projected on a fluorescent screen. The first mass x-ray survey was conducted in Melville in 1941, and the first provincewide survey was completed by August 1947. The fifth and final provincewide survey was completed in 1962.
When Dr. Ferguson retired in September 1948, he was succeeded by Dr. John Orr as director of medical services for all three sanatoria. Dr. Orr introduced the prophylactic use of antibiotics in the treatment of children under 5 with a positive tuberculin reaction, and the vaccination of negative tuberculin reactors among newborn First Nations children. In the latter program, from 1953 to 1964, Ms Josie Walz traveled throughout northern Saskatchewan by canoe, dog team and airplane, in an effort to reach those in remote areas. In 1957, Dr. G. Dudley Barnett succeeded Dr. Orr as director of tuberculosis for the province, and began centralizing all patient records on readily sorted IBM punch cards. This database attracted international attention. By 1955 early detection, segregation and treatment with adequate antibiotics resulted in early discharge and the creation of vacant beds. The Prince Albert San was closed in 1961; the final use of beds at Fort San was in 1972; and Saskatoon San discharged its last patient on June 26, 1978.
In June 1973 the League established the Dr. George Ferguson Professorship, and began funding which initiated and developed the Division of Respiratory Medicine at the University of Saskatchewan. Dr. V.H. Hoeppner was the League's final director of TB Control. He continued in that post for Saskatchewan Health when the responsibility for TB was transferred back to the provincial government in 1987 and the League formally became the Lung Association. In the early 21st century, TB remains a problem in the Aboriginal population, with about sixty-five new cases per 100,000 population; but cases are quickly identified and treated, so that deaths from TB are rare. Directly Observed Therapy (DOT) now helps prevent development of resistant bacteria. In the non-Aboriginal, Canadian-born segment of Saskatchewan's population, there is each year less than one new case of TB per 100,000 people - a remarkable achievement. Dr. Brian Graham, as the CEO of the Lung Association of Saskatchewan, is presently involved in the Ecuador Tuberculosis Project, using lessons learned in Saskatchewan to establish an effective TB control program in a Third World country.
For seventy-six years, the Saskatchewan Anti-Tuberculosis League was in charge of the tuberculosis program throughout the province. Typically, less than half the money was provided by the provincial government, while an equal amount was contributed by the two municipal organizations, the Saskatchewan Association of Rural Municipalities and the Saskatchewan Association of Urban Municipalities. Some municipalities thus expended more money on one disease, tuberculosis, than they did on roads. Additional support came from the Christmas Seals Campaign and radio amateur hours sponsored by Associated Canadian Travellers, from the Imperial Order of the Daughters of the Empire, and from the general public. The League had outstanding lay presidents, including Peter McAra, A.B. Cook, E.G. Hingley, and Ken More. It provided 10.5 million days of patient care over sixty-one years, and was one of the most efficient, successful and best-supported voluntary grassroots organizations that any government ever funded.
G. Dudley Barnett
Further Reading
Houston, C.S. 1991. R.G. Ferguson, Crusader Against Tuberculosis. Toronto: Dundurn Press; Larmour, J.B.D. 1987. A Matter of Life and Breath: The 75-year History of the Saskatchewan Anti-tuberculosis League and the Saskatchewan Lung Association. Saskatoon: Saskatchewan Lung Association.