Taggart, James Gordon (1892-1974)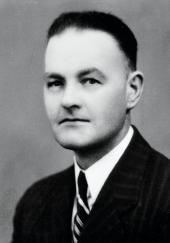 Born September 28, 1892, Taggart grew up on a farm near Truro, NS. He Studied at the Provincial Agricultural College in Truro and the Ontario Agricultural College in Guelph. After working as a district representative for the Guelph agricultural college, he moved to Alberta where he taught and was later principal of the Vermilion School of Agriculture. In 1921 Taggart moved to Regina where he demonstrated tractors for the Ford Motor Company. Later that year he became the first superintendent of the Dominion Experimental Farm in Swift Current. He won the Swift Current seat for the Liberals in 1934 provincial election. Taggart served as Saskatchewan's Minister of Agriculture from 1934 to 1944, first under Gardiner, and then Patterson. Starting in 1939, Taggart held a number of appointments related to the war effort, including food administrator with the federal Wartime Prices and Trade Board and chairman of the Meat Board. When the Patterson Liberals were defeated in 1944, Taggart moved to Ottawa where he continued to work on various boards, and later provided post-war guidance to the Agricultural Prices Support Board. In 1949 Taggart had a second chance to work under Jimmy Gardiner when he was appointed federal Deputy Minister of Agriculture, which he held until 1959. He focused the attention of federal authorities on the importance of prairie agriculture to the nation's economy. He was made a Commander of the British Empire, his professional colleagues elected him a Fellow of the Agricultural Institute of Canada, and several universities gave him honorary degrees. He died June 11, 1974.
Robert Warnock
Further Reading
1995. Salute to Saskatchewan Farm Leaders. Saskatchewan Agricultural Hall of Fame.