Sweeprite Manufacturing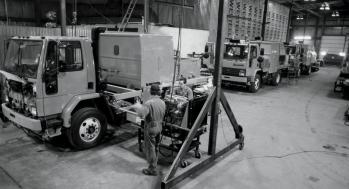 Sweeprite Manufacturing Inc., a Regina-based company founded in 1985 by Les Hulicsko, is in the business of manufacturing and selling industrial equipment. While the company's primary focus has been on power road sweeping equipment, Sweeprite now also manufactures a pothole patching machine.
The company's street sweepers are manufactured to different configurations for a variety of applications. Throughout its history, Sweeprite has been known for products with low operating costs, simple operation, reliabilyt, and easy maintenance.
This has been especially important to the contract-sweeping market because the majority of contractors have limited resources to spend for maintaining equipment. The company has paid special attention to the needs of these customers, and has continuously designed and improved its equipment accordingly.
Gateway Capital Corp., a capital pool corporation with shares that trade on the TSX Venture Exchange, bought Sweeprite from Huliscko in 2003 and has operated as Sweeprite Mfg. Inc. since the purchase. Annual sales are approximately $10 million. Depending on business seasonality, Sweeprite employs 25 to 50 people.
Joe Ralko