Storey and Van Egmond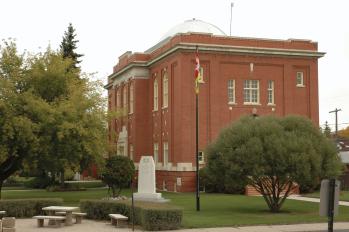 The Regina architectural firm of Storey and Van Egmond, formed in 1907, became over the next forty years one of Saskatchewan's most prolific architectural offices (around 1924 the name changed to Van Egmond and Storey). The firm designed many buildings in Regina such as the Ackerman Building, H.G. Smith Warehouse, Assiniboia Club, Regina Telephone Exchange (now SaskSport), Balfour Collegiate, and more than fifty homes and twenty apartment blocks (such as the Madrid and Balfour). They also designed the Land Titles Building and Nutana Collegiate in Saskatoon, the Bank of Montreal in Estevan, North Battleford's Mental Hospital, and Melville's Town Hall/Opera House.
Edgar M. Storey was born on September 16, 1863, in Cherry Valley, Ontario. He worked in the New York branch architectural office of R.P. White from 1880 until 1893, and then moved to Kingston, Ontario to start his own practice. In 1905, he established his practice in Regina. He died in Regina on August 24, 1913, and is buried in the Regina Cemetery. William Gysbert Van Egmond was born on September 16, 1883, in Egmondville, Ontario. He attended the Beaux Arts School in Toronto and was hired as a draftsman by Gowinlock and Baker. He then worked in New York before coming to Regina in the summer of 1906, where Edgar Storey hired him as a draftsman. In early 1907 the two men collaborated in winning a competition for a new public school in the north end of Regina (Albert School), and the partnership of Storey and Van Egmond was established. Van Egmond continued with the firm for over forty years. He suffered a heart attack on October 9, 1949, on a trip to Stoughton; he is buried near Edgar Storey.
Storey's son, Stanley Edgar, was born at Kingston on August 3, 1888, and came to Regina with his father in 1905. After working in his father's firm, he studied architecture at Queen's University in Kingston and at the Massachusetts Institute of Technology. He then returned to Regina prior to the death of his father. Like many of his contemporaries, Stan joined the army in 1915 and transferred to the Royal Flying Corps in 1918. He was invalided home shortly before the armistice, and soon rejoined Van Egmond. After Van Egmond's death, Stan carried on the practice with Wen C. Marvin. Stan Storey died in Regina on November 5, 1959. All three architects became charter members of the Saskatchewan Association of Architects upon its formation in 1911. William Van Egmond and Stan Storey were elected Fellows of the Royal Architectural Institute of Canada.
Ross Herrington
Further Reading
Gilbert, E.J. 1969. Up the Years with the S.A.A.: A Brief History of the Organization of the Saskatchewan Association of Architects. Saskatoon: Saskatchewan Association of Architects; Norman MacKenzie Art Gallery. 1982. Early Domestic Architecture in Regina: Presentation Drawings and Plans.