Stained Glass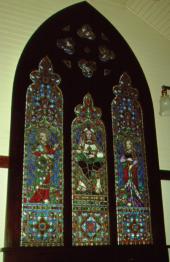 Colour, glass and fire are the essential elements of stained glass, but it requires the alchemy of light to become truly visible. It is possibly the most widespread "public art" in Saskatchewan, yet thousands of windows in hundreds of churches remain largely unseen: only from inside are the colours set aglow by the prairie light. The first stained glass was probably in the Anglican church at Stanley Mission: after a first shipment was lost on the tortuous river journey from Hudson Bay, parchment was substituted until a new set of windows arrived safely in 1860. As churches sprang up in the wake of the railways, many were enlivened with glass from studios in England, Ontario and Quebec. Pioneer priests sometimes brought windows from ancient English churches, like the Ascension in All Saints, Watrous (1912).
The "traditional" style popularized by England's William Morris continued well into the 20th century. After the two world wars the dead were often memorialized, as in Christ in the Ruins and The Four Freedoms, now at the Regina Armoury. In addition to the expected Christian scenes, historic figures (including Inuit and Plains peoples) often appeared, such as the sombre Mounties in the Regina RCMP chapel (1943); the Canadian service men and women in the Cornwall Street Legion in Regina; and Gandhi and Mother Theresa in St. Andrew's United, Moose Jaw (1967). Many of these were made by the Robert McCausland studio of Toronto, as was a large Nativity in St. John's Cathedral, Saskatoon. There are fine windows in St. Aidan, Moose Jaw; in St. Paul's Cathedral, First Presbyterian and Knox-Metropolitan United (in the Tiffany manner), all in Regina; and there is a huge Last Supper in Third Avenue United, Saskatoon.
When costly art became unaffordable during the 1930s, the priest-artist Charles Maillard simply painted his designs onto the windows of the Assumption Cathedral in Gravelbourg. Nearly fifty years later, those peeling windows were replaced with authentic fired glass by the Rault studios of Rennes, France. Beginning in 1949, French Maître Verrier André Rault carried out some thirty installations in Saskatchewan, among many in North America. Departing from the heavily detailed English style, Rault's work has a modern directness, often incorporating the gem-like element of dalle de verre, a unique thick glass. In the Our Lady suite of 34 windows at Holy Rosary Cathedral, Regina (1953-55), dalle bejewels Mary's various halos. A small masterpiece in dalle, Corpus Christi, is at Notre Dame College, Wilcox - near another artist's vision of Hitler and Mussolini drowning in a Jewish sea. Other interesting Rault windows are at Blessed Sacrament (1956), St. Anthony, and Little Flower, all in Regina, and in other communities such as Lafleche, Estevan, Humboldt, and Tisdale. Contemporary Saskatchewan artists such as David Johnson and Lee Brady continue to create in this luminous medium.
Patrick Burns
Further Reading
Delahaye, X.G. 2004. Atelier Rault: Maîtres Verriers Bretons, Rennes. Paris; Raguin, V. 2003. The History of Stained Glass. London: Thames and Hudson.