Slade, Arthur Gregory (1967-)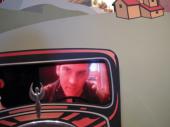 Arthur Slade, an award-winning author, was born in Moose Jaw on July 9, 1967. He grew up on the Cypress Hills ranch of his parents, Robert and Anne (Shea), herself a writer. After completing high school in Gull Lake, he went to the University of Saskatchewan, where he received an honours degree in English in 1989. Arthur married Brenda Baker, a Saskatchewan singer, writer and entertainer in 1997; their daughter, Tori Lorranne, was born in 2003.
Arthur Slade began writing novels in high school. Following university, he worked in Saskatoon, writing radio advertising. After five years, he decided to focus on writing for young people. His seventh novel, Draugr, was the first to be published and was nominated for a Saskatchewan Book Award and a Small Press Book Award. Slade's novel, Dust, received the 2001 Governor-General's Literary Award for Children's Literature, the 2001 Saskatchewan Book Award for Children's Literature, and the 2002 Mr. Christie's Book Award. In 2003, Return of the Grudstone Ghosts received the Saskatchewan Young Readers' Choice Diamond Willow Award. In addition to his novels, Arthur Slade has written articles, a biography of John Diefenbaker, and comics.
Marion Perry
Further Reading
Ferguson, Collene. 2003. "Few Authors can Match Arthur Slade's Versatility." Regina Leader Post (November 29).