Siggins, Maggie (1942-)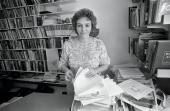 Author, journalist, broadcaster and filmmaker, Maggie Siggins is a native of Toronto, Ontario. Born on May 28, 1942, she studied journalism and received a Bachelor of Applied Arts from the Ryerson Polytechnical Institute in 1965. Siggins began her career as a reporter for the Toronto Telegram and, during the 1970s, worked as a political reporter, commentator, interviewer, and producer for both CBC and CITY-TV in Toronto, as well as contributing to various national magazines. Siggins moved to Regina in 1983. Her book on the Thatcher murder case, A Canadian Tragedy: JoAnn and Colin Thatcher, was published in 1985. It was the basis of the CBC mini-series Love and Hate which was broadcast on CBC in Canada, NBC in the United States, and in over forty different countries. A Canadian Tragedy won the Arthur Ellis Crime Writers of Canada Award.
Some of Siggins' other works include: Brian and the Boys: A Story of Gang Rape; Riel, A Life of Revolution; and In Her Own Time: A Cultural History of Women. Her Revenge of the Land won the Governor-General's Award for Literary Non-Fiction in 1992, and was adapted in 1998 as a television mini-series for broadcast on CBC and CBS.
Siggins has also written several documentaries, including Mr. and Mrs. Mark Go to Yorkton, Twin Stars, and Scarred by History. Her second episode of the Scarred by History series, "Nanjing Nightmares," was nominated for two awards at the Yorkton Short Film & Video Festival. Siggins has also been active in studying and teaching journalism. She spent 1985 and 1986 in China, where she worked at the New China News Agency and taught at the Beijing Broadcast Institute. Before that, she held the Max Bell Chair in Journalism at the University of Regina (1983–84). She continues to lecture, write, and work as a documentary filmmaker.
Mark Vajcner