Sheldon-Williams, Inglis (1870- 1940)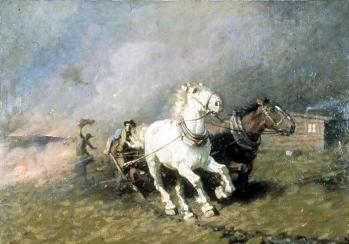 Inglis Sheldon-Williams is recognized as one of Saskatchewan's major early artists. Born in Hampshire, England on December 25, 1870, he was the son of a landscape painter. Sheldon-Williams first came to Canada in 1887, homesteading at Cannington Manor in southeastern Saskatchewan. He returned to England in 1891 and began his art studies. In 1894, he came back to Canada to complete his homesteading duties; from 1896 until 1898 he studied at the Slade School of Art in London.
Between 1899 and 1904, Sheldon-Williams travelled extensively in South Africa, India and Europe, producing drawings and watercolour illustrations that were published in periodicals in London. Following his marriage in 1904, he lived in Gloucestershire, England, exhibiting regularly at the Royal Academy in London, the Paris Salon, and a variety of other exhibitions in both London and Europe.
In 1913, Sheldon-Williams returned to Saskatchewan as a well-trained, mature artist. His work had developed from the 19th-century English tradition of Romanticism, with the emphasis placed on the story or subject of a painting. He captured the feelings of vastness and loneliness of the prairies, and his best work was produced in Regina during the next five years.
By 1914 he had met Norman MacKenzie, a prominent lawyer and art collector, who became a great supporter. In Regina he found an atmosphere conducive to painting, a receptive public, and the financial support that enabled him to depict the events and scenes of a growing city. He worked in both watercolour and oil paint, and with his reputation being quickly established, he was regularly commissioned to undertake portraits of prominent members of city and provincial governments. These included Sir Frederick Haultain, Premier of the North-West Territories, the Hon. A.E. Forget, Lieutenant-Governor of Saskatchewan, and the Hon. Walter Scott, Premier of Saskatchewan.
In 1916, Sheldon-Williams was asked to organize the School of Art at Regina College and to provide classes for the students. In October 1918, he went to the front in Europe as an official Canadian war artist. He made an attempt to return to Canada in 1924, but was unable to find work. Following a nervous breakdown in 1925, he travelled in Europe, and between 1927 and 1934 he settled in Italy. During that time he exhibited intermittently in England and Canada, and continued to send work to Canada to be sold. From 1934 until his death on November 20, 1940 he lived in Hampstead, London.
Paul Fudge
Further Reading
Ainslie, Patricia. 1982. Inglis Sheldon-Williams: Exhibition Catalogue. Calgary: Glenbow Museum; Christie, Robert. 1980. Watercolour Painting in Saskatchewan 1905-1980. Saskatoon: Mendel Art Gallery.