Sapp, Allen (1929-)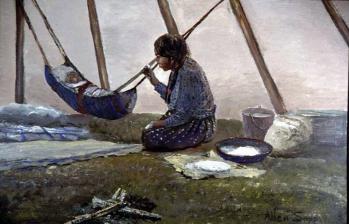 Allen Sapp, one of Canada's foremost artists, is renowned for his depiction of the day-to-day reserve life he experienced growing up in the 1930s. Sapp, a descendant of Chief Poundmaker, was born on January 2, 1929 on the Red Pheasant Reserve, south of North Battleford. His mother suffered from tuberculosis and eventually died during his adolescence. Sapp's father later married Martha Dressyman, and Sapp was raised by his maternal grandmother and grandfather, Albert and Maggie Soonias.
As a child, Sapp was often ill and spent long hours in bed. To pass away the time, and encouraged by his grandmother, Sapp took up drawing. When he grew older, Sapp in turn cared for his grandmother until she died in 1963. He then moved to North Battleford to try to make a living as an artist, selling his paintings on the streets for a few dollars. He struggled, selling door to door, until 1966 when he met Dr. Allan Gonor. Gonor recognized Sapp's talent and encouraged him to paint what he knew best - life on the reserve. A friendship and partnership grew, and by the 1970s Sapp's work was known throughout North America and as far away as London, England. Over the years, his work and life story have been the subject of numerous books and television documentaries such as the National Film Board of Canada's Colours of Pride, and the CBC's On the Road Again and Allen Sapp, By Instinct a Painter. Books include A Cree Life, by John Warner, and Two Spirits Soar, by W.P. Kinsella.
Sapp has received numerous awards and honours, including the Order of Canada, the Saskatchewan Order of Merit, membership in the Royal Canadian Academy of Arts, an honorary Doctorate from the University of Regina, as well as the Saskatchewan Arts Board Lifetime Achievement Award and a National Aboriginal Lifetime Achievement Award. In 1989, North Battleford opened a public gallery to honour Allen Sapp and Dr. Allan Gonor. The Allen Sapp Gallery-Allan Gonor Collection, the only public gallery in Canada dedicated to the work of a living artist, houses comprehensive archives on Sapp and boasts the most extensive permanent collection of his art in Canada. In 2003, Sapp won the Governor General's Literary Award for his illustrations in the children's book The Song Within My Heart.
Dean Bauche