Sainte-Marie, Buffy (Beverly) (1941-)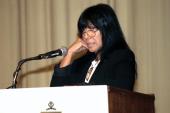 Singer-songwriter, visual artist, actor, and educator, Buffy Sainte-Marie was born on February 20, 1941, of Cree parents on the Piapot Reserve near Craven, Saskatchewan. She was orphaned as a baby and adopted by a part-Micmac family who raised her in Massachusetts and Maine. She was later adopted according to tribal customs on the Piapot Reserve by a Cree family related to her natural parents. Sainte-Marie started playing guitar at 17, and became an important artist in Greenwich Village (New York) folk music circles by the early 1960s. She toured North America's college, reservation, and concert hall circuits, known as a writer of love and protest songs. By age 24, she had appeared in the United States, Canada, Europe, Australia, and Asia. Among her earliest Canadian performances were the 1964 Mariposa Folk Festival and Expo '67.
Buffy Sainte-Marie recorded several albums, including her highly political first album It's My Way (1964), which won Billboard's Best New Artist award. This was followed by Many a Mile (1965), Little Wheel Spin and Spin (1966), and I'm Gonna Be a Country Girl Again (1968), which saw her move away from folk towards a country style. Her first all-electronic vocal album, Illuminations (1969), signalled her interest in technology. Sainte-Marie's rock breakthrough album, entitled She Used To Wanna Be a Ballerina (1971), followed. She continued to write and record throughout the 1970s. Some of her best-known songs were recorded by other artists, including "Until It's Time for You to Go," recorded by Elvis Presley, Cher, Neil Diamond, Ginette Reno, and Barbra Streisand. "The Universal Soldier," made popular by Donovan, became the anthem of the peace movement. She wrote several songs about First Nations people, including "Native North American," "Now That the Buffalo's Gone," "Soldier Blue," and "My Country 'Tis of Thy People You're Dying." As a songwriter, Sainte-Marie is best known for "Up Where We Belong," written with her husband, record producer Jack Nitzsche, and Will Jennings. This song was on the soundtrack for the American film An Officer and a Gentleman, and won an Academy Award in 1983 after being recorded as a duet with Joe Cocker and Jennifer Warnes.
In the late 1970s, Sainte-Marie began to study experimental music, employing computers and MIDI devices. She earned a PhD in Fine Art from the University of Massachusetts, and holds degrees in oriental philosophy and in education. She has also pursued acting and the visual arts. Her visual art combines colours and light, using scanned-in photos, fabrics, feathers, or beads. Her work has been shown at the Glenbow Museum (Calgary), Emily Carr Gallery (Vancouver), MacKenzie Art Gallery, Institute for American Indian Art Museum (Santa Fe, USA), Isaacs Gallery (Toronto), and others. With her son, Sainte-Marie was a performer on the Canadian-aired American children's television show Sesame Street from 1975 to 1981. As well, she has appeared on CBC radio and TV, notably in Superspecial (1978), Pascan: PowWow (1982), and The Many Moods of Buffy Sainte-Marie (1983).
In 1992, Sainte-Marie released a comeback album, Coincidence and Likely Stories. In 1993, she helped found the Juno Award "Music of Aboriginal Canada," which she won in 1997 for her collection of old and new songs, Up Where We Belong (1996). She has won several awards and honours, including the Saskatchewan Recording Industry Association's Lifetime Achievement Award (1994); she is a member of the Juno Hall of Fame (1995) and of the Order of Canada (1998). In 1997, she performed with the Regina Symphony Orchestra and a cast of powwow singers and dancers, donating funds from the concert to the Saskatchewan Indian Federated College. Always interested in education, Buffy Sainte-Marie founded the non-profit Nihewan Foundation for Native American Education in 1969. Its most recent endeavour is the Cradleboard Teaching Project, whose objectives are to provide core curriculum based on Native American cultural perspectives and to build computer networking relationships among partnered Native and non-Native schools. The first pairing of this type was between a mainstream Hawaiian class and a class of Native students in Saskatchewan. Buffy Sainte-Marie has taught digital music at several colleges, and lectures regularly on a variety of topics. She has been an adjunct professor at York University in Toronto and at the Saskatchewan Indian Federated College in Regina. She holds an honorary Doctor of Laws (1996) from the University of Regina and an honorary Doctor of Letters (2003) from the University of Saskatchewan.
Colette P. Simonot