Runciman, Alexander McInnes (1914- 2000)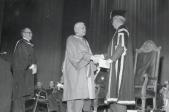 "Mac" Runciman was born on October 8, 1914, in Invergordon, Scotland. His family emigrated to Canada and acquired a half-section of land near Balcarres, Saskatchewan in the spring of 1929. Runciman gradually took over the farming operation from his father; this phase of his life, however, ended with World War II. In 1939 he joined the Ordnance Corps of the Canadian army. He rose from the rank of private to subconductor of ordnance, the most senior non-commissioned officer rank in the army, equivalent to regimental sergeant major. After the war he returned to Saskatchewan; the family farm had been lost by then, but under the Veteran's Land Act Runciman acquired a piece of property about five miles southwest of Abernethy. In 1952, he joined what was then called the "Lemberg Local Board" of United Grain Growers (UGG). In 1955 he became a UGG director, and then president in 1961; he served in that capacity until 1981.
Runciman was also appointed to the board of directors of the Great West Life Assurance Company in the early 1960s. He went on to serve on the boards of a number of major Canadian companies, including Canadian Pacific, the Royal Bank, and Massey Ferguson. In 1984, he became a founding director of Power Financial Corporation. He also served on many government and industry bodies, including terms as the founding president of both the Rapeseed Association of Canada (now the Canola Council of Canada) and the Canada Grains Council. Within a year of his retirement from UGG, he was invited to chair the board of governors of the University of Manitoba, one of the two universities from which he had received honorary PhDs (the other being the University of Saskatchewan). Mac Runciman passed away on December 6, 2000. He is remembered as one of the great leaders of Canadian agriculture and one of Saskatchewan's most distinguished citizens.
Paul D. Earl
Further Reading
Earl, Paul D. 2000. Mac Runciman: A Life in the Grain Trade. Winnipeg: University of Manitoba Press.