Royal Canadian Army Service Corps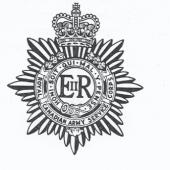 Formed on November 1, 1901, as a branch of the Active Militia, the Canadian Army Service Corps (CASC) provided various support services to fighting troops. In Military District No. 10, the 7th Mounted Brigade No. 20 Company was raised in Regina on November 15, 1913. For its commendable efforts throughout World War I, the Corps received the designation "Royal" on November 3, 1919.
During both world wars and the Korean War, Saskatchewan personnel provided reinforcements to the Royal Canadian Army Service Corps (RCASC), as complete units were not sent to the front lines. In 1954, 142 Transport Company RCASC (M) was formed in Regina and Moose Jaw from elements of 22 Transport Company. The Moose Jaw portion of this unit was disbanded in 1965 when 142 Transport Company became Transport Company of 16 (Regina) Service Battalion. Since 1998, the main transport section for all Saskatchewan units has been 17 Wing Winnipeg supported by Camp Dundurn.
Gordon Goddard
Further Reading
Warren, Arnold. 1961. Wait for the Wagon: The Story of the Royal Canadian Army Service Corps. Toronto: McClelland.