Rogers, Otto Donald (1935-)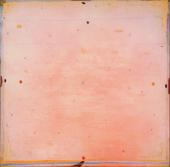 Otto Rogers was born on December 19, 1935, and grew up on a farm near Kelfield, Saskatchewan. He went to high school in Kindersley, and then in 1952-53 to the Saskatoon Teachers' College, where Wynona Mulcaster influenced him to study art. He completed a BSc in Art Education and an MSc in Fine Art from the University of Wisconsin, where he studied from 1954 to 1959. His work won prizes at state exhibitions, and he received several scholarships and awards. After a few months in New York, he returned to teach in the Art Department at the University of Saskatchewan; there he was a professor of art from 1960 to 1984, helped organize the Emma Lake Art Workshops, and was head of the department for twelve years. Rogers has worked in a number of media and has received numerous awards for his painting, sculpting and graphic arts. His work is available in major galleries and in private collections in many countries. His abstract work is greatly influenced by prairie space and by his religious beliefs.
Barbara Nelson, whom he married in 1959, introduced him to the Baha'i faith, and Rogers became a leader in local Baha'i activities. He accepted increasing responsibilities within the Baha'i Board in Canada and internationally. These responsibilities and his ongoing artwork led Rogers to move to Haifa (Israel) to work at the Baha'i headquarters' International Teaching Centre. Rogers returned to Canada in 1998 to Milford, Ontario, where he works out of his award-winning studio, designed by the architect Siamak Hariri, who is married to Rogers' daughter Sasha. Sasha Rogers, also a painter, is greatly influenced by her father's work.
Bob Ivanochko