Ritchie, Alvin Horace (1890-1966)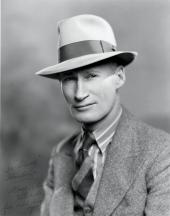 A hockey and football pioneer in western Canada, Al Ritchie was born in Cobden, Ontario in 1890. He moved to Regina with his family prior to World War I, in which he served as an artilleryman. Ritchie returned to Regina after the war, and worked as a customs and excise appraiser for the federal Department of Customs until his retirement in 1956. Known as the "Silver Fox," Ritchie coached the Regina Pats junior hockey and football teams and is the only person in history to have won national championships in both sports. He guided the Pats hockey club to Memorial Cup championships in 1925 and 1930, and the football team to the 1928 Canadian title. As coach of the Regina Roughriders (later Saskatchewan Roughriders), Ritchie led his teams to win fifty-six consecutive games and nine western championships - but never the Grey Cup, despite four consecutive appearances in the final between 1929 and 1932. Ritchie worked as a scout for the NHL's New York Rangers from 1933 until the time of his death. He was inducted into the Canadian Football Hall of Fame (1963), the Canadian Sports Hall of Fame (1964) and posthumously to the Saskatchewan Sports Hall of Fame (1966). Al Ritchie died on February 21, 1966.
Daria Coneghan, Holden Stoffel
Further Reading
Calder, B. and G. Andrews. 1984. Rider Pride: The Story of Canada's Best-Loved Football Team. Saskatoon: Western Producer Prairie Books.