Pratt, Charles Cowley (1816-88)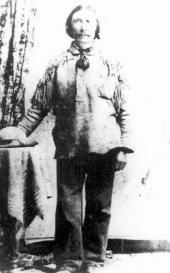 Also known as Askenootow (Worker of the Earth), Pratt was born in 1816 among the Young Dogs band of Cree/Assiniboines, nêhiyaw-pwâtak, at the fish weir between Mission and Echo Lakes in the Qu'Appelle Valley. His mother was Cree/Assiniboine and his father was a Métis buffalo hunter, Zacharia Floremond. He is remembered as an Anglican lay reader/catechist and schoolteacher (1851–84), interpreter for Treaty 4 at Fort Qu'Appelle (1874), and the first First Nations person from the Canadian plains to receive a western education. In 1822 his people sent him on the Hudson's Bay Company Swan River fur brigade to present-day Winnipeg to be educated at the Anglican Church Missionary Society's (CMS) Red River Indian Mission School (est. 1820). The condition under which he was sent was that he be returned once he had learned how to read and write. Pratt rejoined his buffalo hunting people in 1832, and between 1835 and 1848 he worked for the Hudson's Bay Company as a boatsman and labourer in the Swan River district. In 1850 he returned to the CMS as an interpreter and schoolteacher.
Over the course of his career, Pratt established five inland missions (Fort Pelly, Qu'Appelle Lakes, Round Lake, and Little and Big Touchwood Hills), observing the devastating impact of European expansion on his people: once healthy, independent buffalo hunters, they were then reduced to small, starving bands, wrought by waves of disease epidemics and rounded up on reserves. As per CMS policy, Pratt and other Native church workers received half the salary and supplies received by their European counterparts. By choice and necessity he lived among and followed the traditional livelihood patterns of his people: buffalo hunting, fishing, gathering, and trapping. As a mediator between worlds, Askenootow did his best to help his people adjust to hard and changing times. His baptismal namesake was Josiah Pratt, secretary of the CMS at that time. Askenootow later adopted Cowley as his middle name after the Reverend Abraham Cowley, with whom he spent his earliest years as a CMS interpreter and schoolteacher. In 1841 he married Catherine Sinclair of Norway House, with whom he had twelve children. Widowed in 1869, he married Elizabeth Kashepuyas in 1874. Charles Pratt took treaty with his lifelong friend George Gordon in 1874, and remained in the service of his people until a paralytic stroke forced his retirement in 1884. He died in 1888.
Winona L. Wheeler