Plains Health Centre, Regina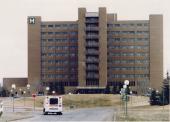 This eleven-storey structure, built for $9 million between 1970 and 1974, resulted from the Hartman-Argue Report in 1965, and served as a tertiary referral and university training hospital for southern and eastern Saskatchewan from 1974 to 1998. Initially all patient rooms were private, with a large "picture window" which gave the patients the benefit of healing light plus a prairie view. For those privileged to work in it, or to train in it, or especially to be patients in it, it was a magical place - both because of its architectural design and also because the co-operation of staff and students attained the best results for their patients.
For thirteen years this hospital fulfilled its functions in all the major branches of surgery and medicine, at the same time becoming a well-recognized training centre in those disciplines as well as in family medicine. In 1987, the University of Saskatchewan discontinued most full-time professorships and their teaching programs, and decreased its support for surgery.
In 1992, the Atkinson Report suggested the Plains Health Centre be closed. In 1998 the building was decommissioned as a hospital at a cost of $21 million, and converted to a central educational institution for the Saskatchewan Institute of Applied Science and Technology.
Murray M. Fraser