Perreault, Wilf (1947-)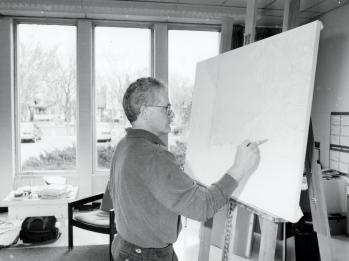 Wilf Perreault has been described as one of the most interesting of Canada's contemporary landscape painters. Born in Albertville, he took private art lessons as a child. His formal training began at the University of Saskatchewan, where his concern for representational painting was at odds with the New York-style abstraction dominant at that time in Saskatchewan. He concentrated instead on abstract sculpture under the guidance of Otto Rogers and Bill Epp. He also encountered the landscape paintings of Reta Cowley and Dorothy Knowles, whose expressive play with light in the landscape would later serve as an influence. Perreault graduated with a BFA in 1970 and a BEd in 1971, and moved to Regina to teach art. There he returned to painting, and his explorations of his new city became linked with his search for a subject matter. Perreault eschewed the conventional views, becoming fascinated instead with the complex vistas to be found in the back lanes of the inner city. These hidden landscapes have sustained his interest throughout his career, providing an ongoing challenge to his skills in creating works that capture the play of light and reflection, evoking a human context that saturates his work with a sense of place. He developed an exacting method to capture the reflections in his often water- or snow-covered alleys. In layer after layer of thin washes, colour is used in precise brushstrokes to achieve paintings that are masterful renderings of texture and compositional elements and, above all, of light.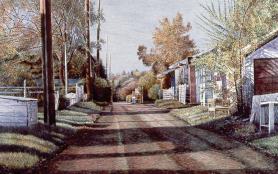 In 1978 Perreault earned his first solo exhibition at the MacKenzie Art Gallery and was then included in significant group exhibitions. When he received a Canada Council grant in 1981, he took a leave from teaching and concentrated on his art. Critical and commercial success followed, and he soon took a second leave, followed by working as an artist-in-residence with the Regina Catholic School Board. Since the 1980s Perreault has worked full-time as an artist, exploring various subject matters such as portraits, while never abandoning his fascination with back lanes. He has participated in solo and group exhibitions throughout Canada and the United States, and in 1989 was chosen to be one of five artists representing Canada in Les Jeux de la Francophonie in Morocco, where he won the Silver Medal. Perreault's work can be found in public, private and corporate collections throughout North America. He has received several public commissions and grant awards. In 1995, his charitable work was recognized with the Mayor's Award for Volunteer of the Year in Arts. That year he was also elected to the Royal Canadian Academy of the Arts, and in 2003 he received the Queen's Jubilee Medal.
Christine Sowiak