Ogle, Father Robert (1928-98)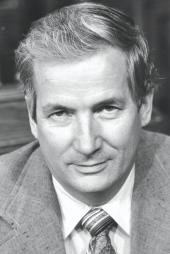 Father Bob Ogle was a priest, foreign missionary, author and a member of Parliament. He was born on December 24, 1928 in Rosetown, Saskatchewan, and was raised on a poor farm in a devout Irish Catholic family during the Great Depression. He studied for the priesthood at St. Peter's Seminary in London, Ontario, and was ordained in May 1953. He then returned to Saskatoon, where he became a parish priest, founded the Catholic Centre, and became the rector of St. Pius X Seminary. He later completed a Doctorate in Canon Law at the University of Ottawa. Father Ogle was a man of great energy and drive who wanted to make a difference. In 1964 he volunteered as one of the founding members of a diocesan mission team sent to the poverty-stricken region of northeast Brazil. There he engaged in pastoral work and organized literacy activities, farming co-operatives, and medical programs. In 1969 he coordinated a relief operation and house-building program following disastrous floods near the mission. He later said that he was profoundly influenced by what he saw in Brazil, and that it changed his llife.
He returned to Saskatoon in 1970 and was installed in one of the city's largest parishes. He was a good pastor, especially skilled at getting people involved in projects; but he was restless. In 1976 he took a sabbatical and traveled the world, visiting Canadian international development projects. When he returned home, he wrote about it in a book called When the Snake Bites the Sun. The very night that he delivered his manuscript in September 1977, he received a call from a member of the NDP constituency organization for Saskatoon East, asking him to consider becoming a candidate in the next federal election. He had never belonged to a political party, but was ready for something big. It was unusual for a priest to engage in partisan politics, so he consulted with his bishop, with other priests, parishioners, friends, and even Otto Lang, the Liberal incumbent. Eventually he decided to do it, and the Ogle legend began to take shape. He was a creative campaigner, who placed brief handwritten advertisements in the local newspaper and mounted an Ogle sign on a moveable trailer which he parked in the street whenever he went knocking on doors.
While Otto Lang went busily about his task as Transport Minister, Father Ogle became a well-known figure, riding a bicycle around the city to do his canvassing. He knocked on every door in the riding, many of them more than once. He used a low-key, pastoral approach on the doorstep, asking people about themselves and their problems rather than telling them what to think or how to vote. Father Bob, as he was known, defeated Lang in 1979, entering the NDP caucus during the minority government of Joe Clark; he won again in 1980. He served as the NDP critic for external affairs, for the Canadian International Development Agency, and as the critic for health, in which position he steadfastly refused to follow his party's position on abortion, Father Ogle loved being an MP, and he approached that work on a pastoral basis as well, generally keeping a promise never to make personal attacks on political opponents. But his career was causing controversy within the Church. By 1984 the Vatican had decided that Parliament was no place for a priest, and despite the fact that he had already won his party's nomination as a candidate, Father Ogle was instructed not to stand for election. He agonized over the order and considered leaving the priesthood, but in the end he decided to obey, and did not contest the 1984 election. He was quoted at the time as saying that he was a priest first and hoped to remain one for the rest of his life. During his last fifteen years, Father Ogle was almost constantly ill. He was suffering from serious headaches and developed a bleeding ulcer even before he left politics in 1984. About a year later he had a heart attack, and eventually he was diagnosed with a cancerous and inoperable brain tumour.
Those who knew him well said that his afflictions often left him near despair, but he was a tenacious man, who loved life and refused to give up. In these pain-filled years he wrote two more books, initiated a project called Broadcasting for International Understanding, and hosted a retreat series on television. Father Bob Ogle was installed as an Officer of the Order of Canada in 1989 and received the Saskatchewan Award of Merit in 1995. His projects kept him (and his friends) busy, and he never lost his sense of humour. His health continued to deteriorate, however, and he died in Saskatoon on April 1, 1998, at the age of 69. The former Pius X Seminary, now a student residence on the University of Saskatchewan campus, has been renamed Ogle Hall in his honour.
Dennis Gruending
Further Reading
Ogle, B. 1977. When the Snake Bites the Sun. Saskatoon: Texchuk Enterprises; - - 1987. North/South Calling. Saskatoon: Fifth House.