Mitchell, Joni (1943-)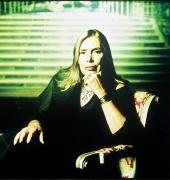 Joni Mitchell (née Roberta Joan Anderson) is one of the foremost singer/songwriters of the post-Beatles generation. In a career of over thirty years, she has produced fifteen original albums, a collaborative project with jazz great Charles Mingus, two concert albums, two compilations, a collection of standards, and a retrospective collection of songs in orchestral arrangements. Her song writing, in its originality, adventurousness, and technical polish, has had great influence on musicians from many different backgrounds, including country, jazz, and r&b. Mitchell and her music have acquired iconic resonance within North American popular culture as the voice of a sensitive, self-exploratory intellectual bohemianism, associated with the visionary ideals of the 1960s youth movement.

Roberta Joan Anderson was born on November 7, 1943, in Fort Macleod, Alberta, where her father was stationed at an Air Force base. At the end of the war, the family moved to her mother's home province of Saskatchewan. Joan's early childhood was spent in Maidstone and North Battleford. Formal piano lessons were a disappointment, discouraging creativity and enforcing discipline through knuckle rapping. She contracted polio in 1953; the disease left her with a weak left hand. Months of convalescence encouraged her to develop an active imagination. When she was 11, the family settled in Saskatoon. In school, she showed special talent in visual art and in poetry, respelling her name Joni for its visual effect as a signature. A job at the Louis Riel coffee house led to contacts with folk musicians and her first singing engagements. In 1963, Joni entered the Alberta College of Art in Calgary, earning money by playing on the folk club circuit in the western provinces. After a year she left for Toronto, where she struggled to make a living as a folksinger and was compelled to give up a daughter, born in 1965, for adoption. Soon after, she married Chuck Mitchell and moved to his native Detroit, where the two performed and toured as a folk duo, while Joni began to gain attention as a songwriter. In 1967 she left her failing marriage and moved to New York, where she built up a following as a solo artist, touring Canada and the United States and making connections with established figures such as Judy Collins and Leonard Cohen. Through a contact with David Crosby, she moved to southern California late in 1967 and secured a recording contract with Warner Brothers.

From 1968 to 1979, Mitchell released one studio album almost every year. She enjoyed enormous commercial success in the early 1970s (peaking with Court and Spark, 1974); but her serious and independent artistic temperament set her increasingly at odds with the economic pressures and mass audience of the music industry. Some of her best known songs ("Both Sides, Now," "Woodstock") were made famous by other artists. Her musical style has evolved dynamically over time, incorporating a range of influences from folk, jazz, and rock'n'roll to African drumming and synthesized sampling. Her persona has also changed from album to album: flower child, confessional soul-searcher, social critic, seasoned raconteur. From the beginning, Mitchell produced her own albums, performing on guitar, dulcimer, and keyboards, and adding instrumental highlights like careful brushstrokes. In writing for the guitar, she has experimented with alternate tunings perhaps more than any other artist. Through highly sophisticated harmony and accompanimental figuration, as well as profound, intricately patterned lyrics, she elevated the pop song genre to the level of art song. Recurring themes include the conflict between love and independence, social nonconformity, and the journey quest. Mitchell has speculated in interviews on the possible influence of the plains landscape on her song writing aesthetic. She has referred to her Canadian childhood in many songs.

The Mingus album (1979) was simultaneously a high point in her progressive artistic evolution and a risky genre-crossing move that took its toll in lost fans and airplay. In 1983, Mitchell married bassist Larry Klein, who has co-produced her albums since that time. After a decade of obscurity, she returned to critical and popular success with Night Ride Home (1991). In 1997, Mitchell's family expanded when she was reunited with her birth-daughter, Kilauren Gibb. Throughout her career, Mitchell has also been active as a painter, creating the cover art for most of her albums; a retrospective exhibition was mounted in 2000 at the Mendel Art Gallery in Saskatoon. Since the 1990s, Mitchell has received numerous prestigious awards for artistic achievement—among them the Billboard Century Award, Sweden's Polar Music Prize, the ASCAP Founders Award, and the Governor-General's Performing Arts Award. In 2004, she received an honorary doctor of music degree from McGill University and was named a Companion of the Order of Canada. She was inducted into the Canadian Songwriters Hall of Fame, along with five of her songs, in 2007.
Lloyd Whitesell
Further Reading
Luftig, Stacy, ed. The Joni Mitchell Companion: Four Decades of Commentary. New York: Schirmer Books, 2000.
O'Brien, Karen. Shadows and Light: Joni Mitchell. London: Virgin Books, 2001.
Sonenberg, Daniel. "'Who in the World She Might Be': A Contextual and Stylistic Approach to the Early Music of Joni Mitchell." DMA diss., City University of New York, 2003.