Middleton, Frederick Dobson (1825- 98)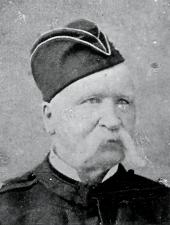 Sir Frederick Dobson Middleton was born on November 4, 1825, in Belfast, Ireland. He was educated in England at Maidstone Grammar School and the Royal Military College, Sandhurst. Upon passing out from Sandhurst, Middleton was granted a commission without purchase in the British army on December 30, 1842.
After being stationed with his regiment at the penal colony of Norfolk Island, New South Wales, he was sent to New Zealand, where he took part in the Maori Wars of 1845. Middleton was mentioned in dispatches for his part in that campaign. In 1848 Middleton went to India, where he served in various staff appointments during the Indian Mutiny of 1857. He was recommended for the Victoria Cross and was gazetted a brevet major in recognition of his service during the Mutiny. Because he could not afford to obtain higher rank through purchase, Middleton turned to professionalism as a means to promotion, passing into the Staff College at Camberley in December 1866.
Middleton joined his regiment in Canada in 1868, accepting a series of staff appointments there before returning to England in 1870. In 1874, he took a staff position at the Royal Military College, Sandhurst, at a time when the college was undergoing profound changes brought on by the abolition of purchase and the introduction of competitive examinations for entrance into the British army. Middleton was rewarded for his work at Sandhurst with a promotion to the rank of colonel and an appointment, in 1879, as commandant of the college; he was also named a Commander of the Order of the Bath in 1881. In 1884, Middleton returned to Ottawa as major general, officer commanding the Canadian militia. On March 23, 1885, the Dominion faced a major crisis when Métis and Aboriginal unrest in the North-West Territories grew into an armed uprising that began with the defeat of a government force of North-West Mounted Police and militia at Duck Lake by the Métis. The Canadian government responded by launching a military campaign, sending Middleton to Winnipeg to raise a North-West Field Force of 5,000 militia to quell the uprising. Middleton proceeded westward by rail, where he divided his force into three columns, each to march northward from various starting points on the Canadian Pacific Railway. Middleton sent one column, under Colonel W.D. Otter from Swift Current, to relieve Battleford, which had come under siege by Chief Poundmaker's band of Cree warriors. A second column set out from Calgary under Major General Thomas Bland Strange to overcome the Cree band led by Big Bear, which had carried out the killings at Frog Lake.
On April 6, Middleton personally led the main column from Qu'Appelle towards the Métis community of Batoche, where Louis Riel had established a provisional government and taken hostages. On April 24, Middleton's forces met the Métis at Fish Creek where, after an inconclusive engagement lasting 6.5 hours, both sides withdrew. When reinforcements arrived two weeks later, Middleton led his force of 900 men to Batoche, where a battle between the militia and Riel's forces ensued. Middleton claimed victory at Batoche when Riel surrendered on May 15, ending the resistance. On June 22, the Cree uprising ended when the last of their captives were recovered, and the troops went home. For his efforts, Middleton received the thanks of the Parliament of Canada, a gift of $20,000 from the Canadian government, a knighthood on August 25, 1885, confirmation of his local rank of major-general, and a British pension of £100 a year for distinguished service. Middleton was forced to resign his appointment with the Canadian militia in 1890, after an investigation held him responsible for the seizure of stolen furs owned by a Métis named Charles Bremner. He was censured by the Canadian government, which characterized his actions as "unwarrantable and illegal." In his own defence, Middleton published a Parting Address to the People of Canada, refuting the Bremner charges.
Middleton and his family returned to England, where British official opinion agreed that he had been the victim of a political conspiracy in Canada. In 1896, he was appointed keeper of the Crown jewels. He spent his last years writing on various subjects, including his final account of the 1885 campaign, which was published in 1893-94. Major General Sir Frederick Middleton died suddenly in his quarters at the Tower of London on January 25, 1898.
Daria Coneghan
Further Reading
Brown, W. 2001. Steele's Scouts. Surrey, BC: Heritage House; Stanley, G. 1992. The Birth of Western Canada: A History of the Riel Rebellions. Toronto: University of Toronto Press.