McKerracher, Donald Griffith (1909- 70)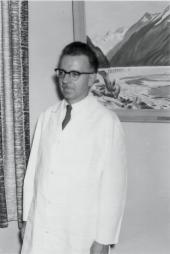 Griff McKerracher, a leader in Canadian psychiatry, was a kindly and sensitive man with a keen analytical mind and an ability to bring out the best in others. He was born in Chatham, Ontario on February 18, 1909. He graduated from the University of Toronto as MD in 1935, and served in the Canadian Army in World War II. In 1946 Premier T.C. Douglas appointed him director of Psychiatric Services for Saskatchewan. He introduced a comprehensive training program for psychiatric nursing - a milestone event that expanded considerably on the earlier 1930 attendants' program of Dr. James W. MacNeill.
In 1954 McKerracher became founding professor and chairman of Psychiatry at the new medical school in Saskatoon. He had a major interest in psychiatric education and in improving both hospital and community care for psychiatric patients. He published many papers in social psychiatry with Dr. Colin Smith, introducing the concept of the comprehensive psychiatric unit in the general hospital, and emphasized the skillful use of community resources. He taught family doctors to become more effective in handling persons with mental and emotional disorders - "my one song," as he liked to call it. His programs became the nucleus of the later developments in the Saskatchewan Plan for small centres to provide complete psychiatric care in their regions.
Colin M. Smith