McKay, Art (1926-2000)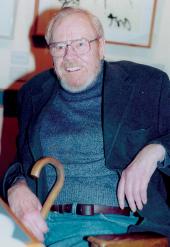 One of the Regina Five artists whose 1961 National Gallery of Canada exhibition brought attention to art in western Canada, Arthur Fortescue McKay was born on September 11, 1926, in Nipawin, Saskatchewan. His father, Joseph Fortescue McKay, was the son of the last in a line of Hudson's Bay Company men which began in the 1700s; his mother, Georgina Agnes Newnham, was the daughter of the Bishop of Saskatchewan. The McKays moved to Winnipeg in 1930, to Prince Albert in 1935, and to Regina in 1940. McKay trained in the Canadian Army from 1943 to 1945 and studied at the Provincial Institute of Technology and Art in Calgary from 1946 to 1948. In 1947, he travelled to England and France to study at the Académie de la Grande Chaumière in Paris. He returned to Regina in 1951. McKay was hired at the School of Art, Regina College in 1952 and initiated the Emma Lake Artists' Workshops with director Ken Lochhead in 1955. In 1956-57, he studied at the School of Painting and Sculpture at Columbia University, New York, and at the Barnes Foundation, Merion, Pennsylvania. As acting director of the School of Art in 1959, McKay, with Roy Kiyooka, coordinated the Emma Lake Artists' Workshop. He acknowledged visiting artist Barnett Newman as an important influence.
In 1961, after an exhibition at the Norman MacKenzie Art Gallery, Richard Simmins mounted a National Gallery of Canada exhibition, Five Painters from Regina, which included McKay, Ron Bloore, Ted Godwin, Doug Morton and Ken Lochhead. By the 1997 MacKenzie Art Gallery retrospective, McKay's work had been shown in over forty-five exhibitions, and his mandalas had become synonymous with Canadian painting. With typical candour, though visibly unwell, he said at the opening: "If I'd known I was this good, I'd have painted more." Art McKay retired in 1987 and moved to Vancouver in 1994. Students and colleagues alike remember him as an unusual but gifted teacher, and in particular as a remarkably honest human being. He died on August 3, 2000.
Anne Campbell