Makahonuk, Glen (1951-97)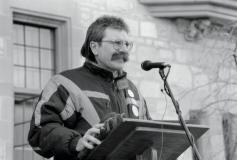 A senior library assistant at the University of Saskatchewan, Glen Makahonuk served as president of the Saskatchewan division of the Canadian Union of Public Employees from 1992 until his untimely death in 1997. During the same period, he served as president of CUPE Local 1975 (representing University of Saskatchewan support workers), regional and general vice-president on CUPE's National Executive Board, and vice-president with the Saskatchewan Federation of Labour. Despite his many union offices, Makahonuk took pride in being part of the "rank and file." He continued his work at the university and found time to chair his Local's grievance committee for almost twenty years, handling over 1,200 grievances.
Makahonuk was a strong proponent of "social unionism." He believed that unions should not be focused solely on collective bargaining and grievance handling, but rather should strive to advance the broad interests of the working class and the unemployed, forge strong ties with social justice coalitions, and organize workers. He was a constant fixture at picket lines. Indeed, he is fondly remembered as one of the best picketers during Saskatoon's Common Front municipal strike of 1994. It was also a common sight to see Makahonuk at the microphone speaking to resolutions at union conventions, which he saw as an opportunity for workers to educate each other about the issues facing the labour movement.
In letters to politicians and "letters to the editor," he called for measures to improve the lives of working people and the unemployed, such as anti-scab legislation, pay equity, a higher minimum wage, and well-funded social programs. While Makahonuk won widespread respect as a tireless labour activist, he was also a keen student of labour history, which helped shape his deep sense of social justice. He completed his Master's thesis on the Estevan coal miners' strike of 1931, and was a frequent contributor to Briarpatch and Saskatchewan History. Just prior to his death on December 10, 1997, Makahonuk authored the booklet Class, State and Power: The Struggle for Trade Union Rights in Saskatchewan, 1905-1997.
Guy Marsden