MacLeod, John (1940-)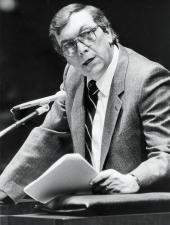 John MacLeod was born in Regina on April 18, 1940. He attended school in Regina and started work as an apprentice electrician on the IPSCO construction project in 1958. MacLeod became an officer of Local 2038 of the International Brotherhood of Electrical Workers (IBEW) in the mid-1960s. He served in a number of union positions over the next thirty years, and was elected full-time business manager for IBEW for a number of three-year terms. In 1970 he was elected vice-president of the Saskatchewan Federation of Labour (SFL) and served on the executive for twenty years, including a two-year term as president.
For twenty years MacLeod was the president of the Saskatchewan Building and Construction Trades Council; he retired from this position in 2002. During his career he was appointed to the Labour Relations Board and the Provincial Apprenticeship Board, as well as to other labour and government boards. Through his union positions he was involved in lobbying the premiers and officials during the Thatcher, Blakeney, Devine, Romanow, and Calvert governments for labour legislation and regulations, particularly regarding the construction industry, with which he negotiated contracts in the province during a period of controversial legislative changes.
Bob Ivanochko