Lavallée, Mary Ann (1920-99)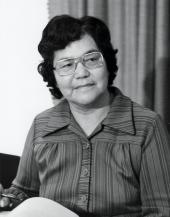 Born on the Cowessess Reserve on June 2, 1920, Mary Ann Lavallée received her early education at the Qu'Appelle Indian Residential School (Lebret), and later qualified as a registered nurse at St. Boniface Hospital. The course of her life changed when she married Sam Lavallée and they established a farm on the Cowessess Reserve. They encountered difficulty from two fronts: first in their attempt to modernize their farm and become economically competitive; and second in the lack of adequate educational opportunities for their children. They began to work for change. Mary Ann was a firm believer in equal educational opportunities and in First Nations parents making the right decisions for their children. She became the instigator and active supporter (1950 to 1967) of establishing a home and school association on her reserve, and was instrumental in forming school committees on reserves across Saskatchewan and in encouraging kindergarten programs for the children.
Mary Ann Lavallée became interested in economic reform in 1960 when the specter of bankruptcy hung over their farm and Section 89 of the Indian Act prevented them, as First Nations farmers on reserve, from using land title as collateral for a loan; Section 89 made it almost impossible for them to operate a modern farm. Forced to plunge into the political arena, they struggled through nearly ten years and three successive federal governments until the Honorable Alvin Hamilton (then federal Minister of Agriculture) brought the issue into parliamentary debate. In 1969, Lavallée was invited to Ottawa to receive the personal signature of Jean Chrétien (then Minister of Indian Affairs and Northern Development) on documents that acted as loan guarantees from the Department of Indian Affairs. This saved the Lavallée farm and opened the door for other First Nations farmers. For twelve years Mary Ann Lavallée traveled across Canada as an unofficial spokesperson for First Nations people seeking social justice and social reform, also traveling to Australia to speak to Aboriginal people there. In 1974 she was chosen by the Saskatchewan Indian Women's Conference as Mother of the Year; and in 1978 she was appointed to the Science Council of Saskatchewan. In recognition of her work, Mary Ann Lavallée was honoured by the women's division of the Saskatchewan Department of Labour as one of the province's notable women (1980). She received a medal for outstanding service from the government of Canada, and was nominated to the Saskatchewan Agricultural Hall of Fame by both the Cowessess Band and the Saskatchewan Indian Agricultural Program (1986).
Christian Thompson, Carol Lavallée