Laurie, Patrick Gammie (1833-1903)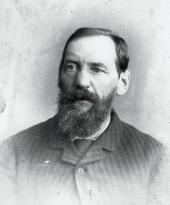 On August 25, 1878, Patrick Laurie launched the Saskatchewan Herald, the first newspaper in the Battleford region. Patrick Laurie was the son of Anglican minister William Laurie and Mary Ann Gammie; as a youth, he apprenticed in Toronto as a printer, beginning a long career in the newspaper business. After working in eastern Canada and briefly with the Nor'Wester newspaper in Red River, Laurie embarked on a 650-mile trip westward from Winnipeg to the Battleford region, walking the entire way beside an ox-cart that carried his printing press. His local stories were front-page news and he was a strong supporter of the North-West Mounted Police.
Laurie's political interests were evident in his coverage of Conservative Party rhetoric: he was an advocate for British imperialism, and praised the traditions and "character" brought west by the Anglo-Saxon governing bodies. However, Laurie did not agree with the settlement schemes of the Conservative government of 1881, whereby land was made available at low prices to encourage speedy settlement: he argued that immigrants should come west at their own expense, so that only the hardiest would undertake the challenge. Laurie insisted that the success of the west depended upon English farmers, Germans from the fatherland, and Anglo-Saxons born on Canadian soil; he described the Aboriginal peoples as obstacles to White settlement.
During the North-West Resistance of 1885, Laurie's editorials distorted the issues and ignored the plight of the Métis people in the area. He also incorrectly reported that Indians were on the warpath and that the Cree and the Nakota of the area shared the views of Riel and his followers. From the late 1880s to the turn of the century, the Saskatchewan Herald strongly criticized Clifford Sifton's agenda to populate the west with settlers from Europe. His influence on the Battleford community helped ensure that only White Anglo-Saxon settlers were welcome in the surrounding area.
Elizabeth Mooney