Kristjanson, Leo F. (1932-2005)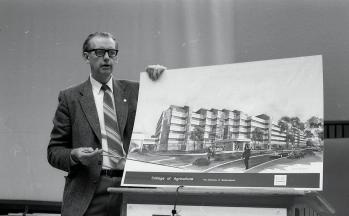 Leo Kristjanson was born on February 28, 1932, the youngest of eight children. As a child, he worked at his parents' general store in Gimli, Manitoba in addition to working on the family farm. He attended the University of Winnipeg, earning a BA and MA in history. In 1957 he began studies in Agricultural Economics at the University of Wisconsin. Upon finishing his course work in 1959, he accepted a position with the Centre for Community Studies at the University of Saskatchewan. The Centre had been established to undertake a program of applied social research related to the development of Saskatchewan communities. In 1960 he began lecturing in the Department of Economics and Political Science, and completed his PhD in 1963. In 1965, Kristjanson joined the Department of Economics and Political Science. He was vice-president (Planning) of the University from 1975 to 1980, and in 1980 he became president. Illness prevented him from completing his second term, and he retired in 1989. The atrium in the Agriculture building at the University of Saskatchewan is named in honour of his contribution to the University.
As president, Kristjanson sought funding for agricultural research and a new College of Agriculture building. He formed a "Sodbuster's Club" to raise planning funds and undertook a leadership role in raising over $12,000,000 from private sources for the construction of the building. He was also instrumental in improving the Soil Testing Laboratory, the Poultry Centre, the Kernan Crop Research Laboratory, the Horticulture Field Service Building, the Saskatchewan Institute of Pedology's Field Facilities, and the Large Animal Research Facility. He was also instrumental in having an art gallery become part of the new College of Agriculture building, named in honour of the first resident artist at the university, August Kenderdine. Also during his term as president, the Centre for the Study of Co-operatives, the Toxicology Research Centre and the Centre for Agricultural Medicine were established.
Kristjanson made major contributions to rural Saskatchewan as a consultant to farm organizations, co-operatives, credit unions, and governments. He served on boards and participated in projects designed to improve living conditions for farmers and their communities. He was chairman of the Saskatchewan Natural Products Marketing Council from 1973 to 1979; a member of a committee to recommend restructuring of the Department of Co-operation; and chairman of the Board of Public Inquiry into the Poplar River Power Project, a provincial study of the environment. He also wrote extensively and has given many public speeches on co-operatives, population and rural development, marketing boards, and commissions. Leo Kristjanson was inducted into the Saskatchewan Agricultural Hall of Fame in 1990. He died on August 21, 2005.
Blaine A. Holmlund