Knowles, Dorothy (1927-)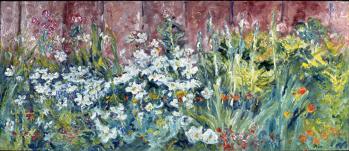 . Bringing images of prairie landscapes to the forefront of the Canadian and international art scenes, Dorothy Knowles has had exhibitions in cities such as Montreal, Toronto and New York, and her work is represented in numerous galleries and private collections. Born on April 6, 1927, in Unity, Saskatchewan, she grew up on a farm where she spent much time exploring the natural prairie surroundings. In 1944 she moved to Saskatoon. Originally interested in biology and intending to become a laboratory technician, she completed her BA from the University of Saskatchewan in 1948. Though she was always interested in art and nature as a child, her artistic talent was formally discovered that summer, when she attended a six-week art course at Emma Lake, which was led by Reta Cowley and James Frederick Finley. She took night classes in art in Saskatoon for the next four years and a summer class at the Banff School of Fine Arts, before enrolling at the Goldsmith School of Art in London, England. She is often mentioned in tandem with her husband, abstract painter William Perehudoff, who followed her to Europe; after touring Europe's art galleries together until they ran out of money, they returned to Saskatoon to establish their careers as artists and raise three daughters.
Knowles continued to attend the summer workshops at Emma Lake, where she encountered other artists and critics such as Will Barnet, Herman Cherry, and Clement Greenberg. It was Greenberg who encouraged her to move from experiments with abstract painting to realistic depictions of landscapes directly from nature; this would become her signature style. Often inviting comparisons to Impressionism, Knowles typically uses watercolour, acrylic, charcoal, and oil media for her paintings. Her work has been described as "lush and evocative," combining the traditional values of landscape painting with the innovation of Post-Painterly Abstraction. Her first one-person art show was held in 1954 at the Saskatoon Art Centre. At that time, she was still exploring mainly abstract styles, but as she spent more time either painting directly outdoors or from photographs, her transition to realism occurred. She is noted for capturing the richness and instability of prairie landscape.
Dorothy Knowles received the Saskatchewan Order of Merit in 1987 and was named a Member of the Order of Canada in 2004. She has also been recognized with the Century Saskatoon Award of Appreciation in the Arts (1982), and an honorary degree from the University of Regina (1994). Her art has been commemorated on the Saskatchewan stamp of the Canada Day series of postage stamps, Canada Through the Eyes of its Artists. Her distinctive technique and style have inspired many other artists, and she is considered unmatched in her ability to represent images of the Canadian west. The government of Saskatchewan chose one of her pieces to present as a gift to the Governor General in 1965.
Lauren Black